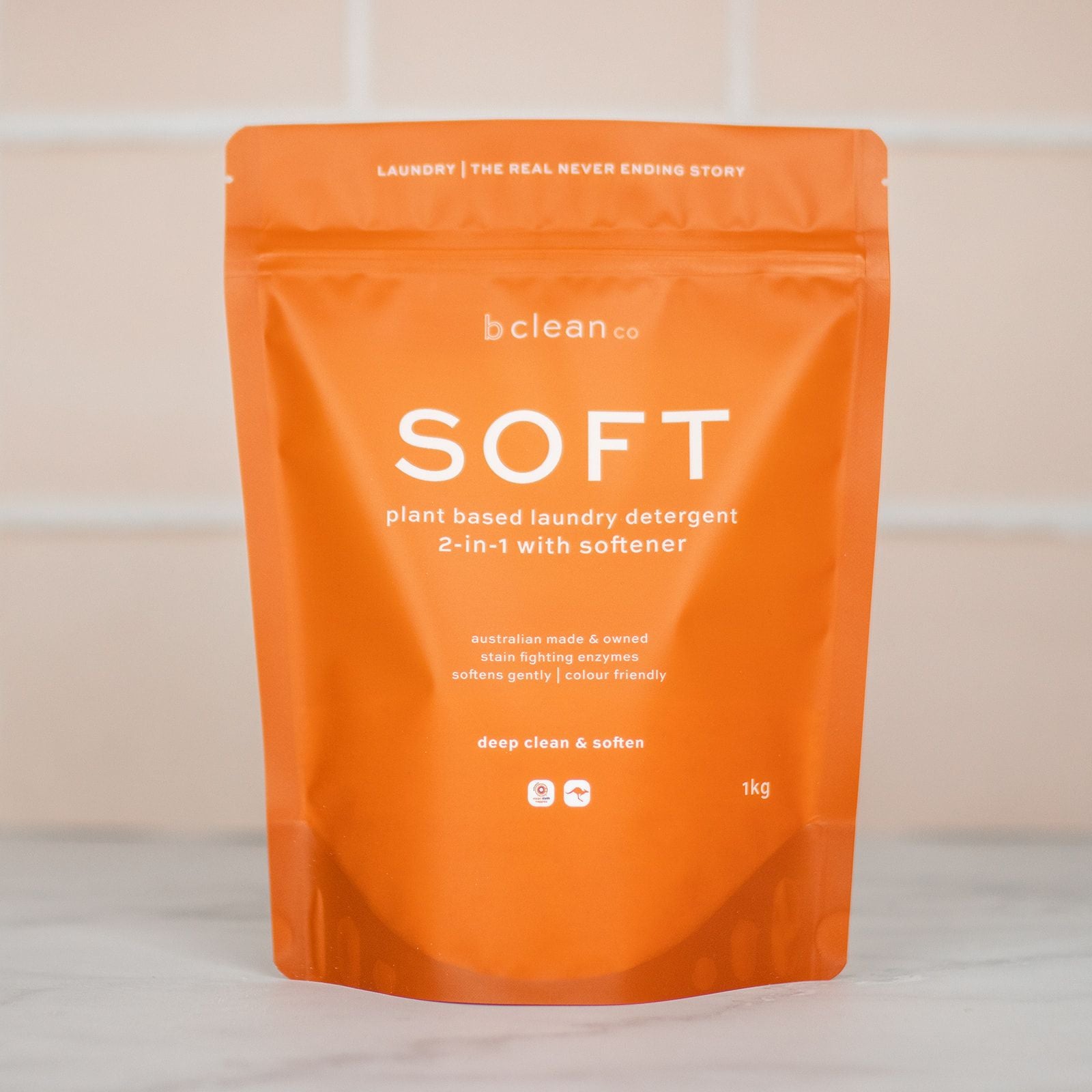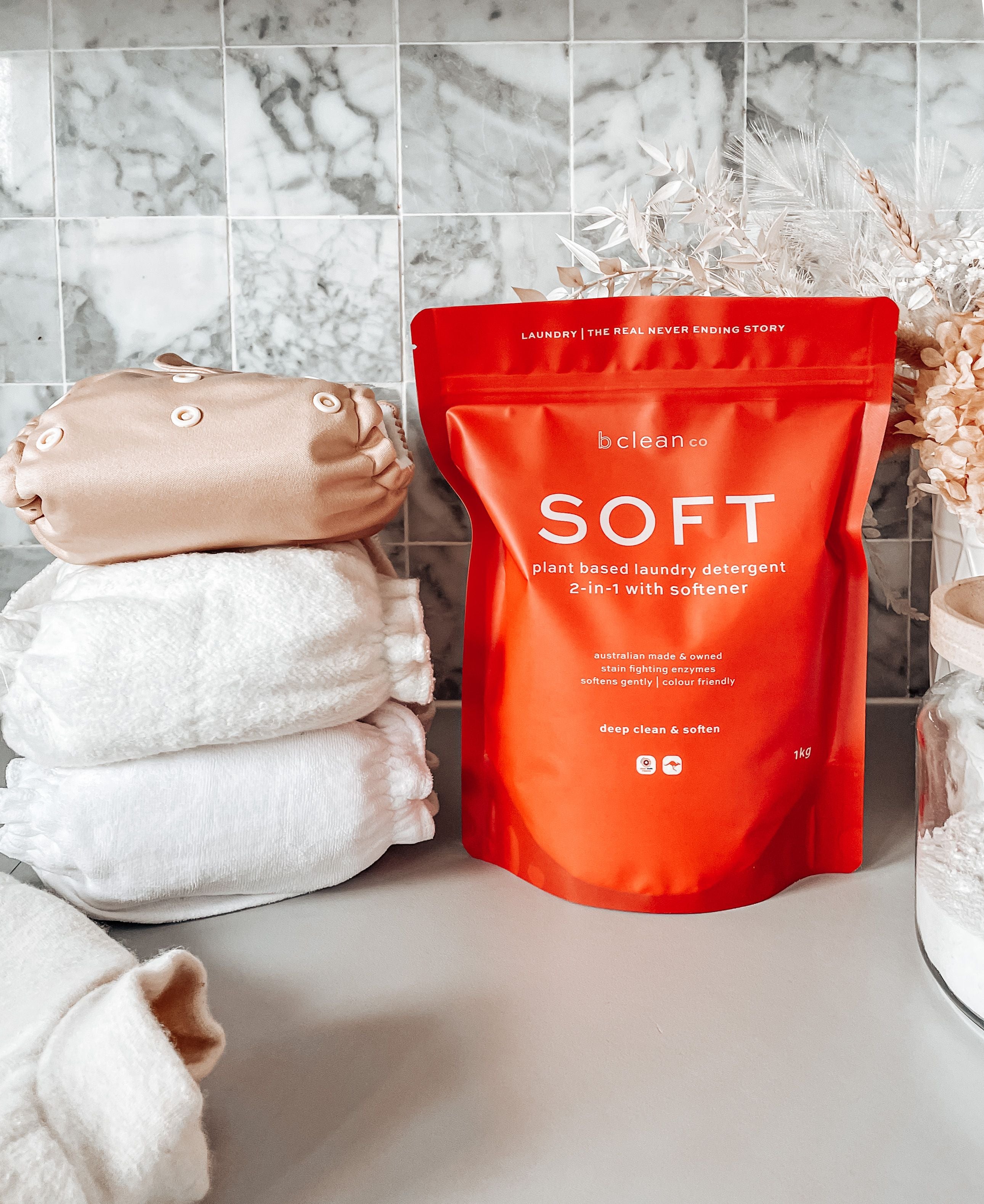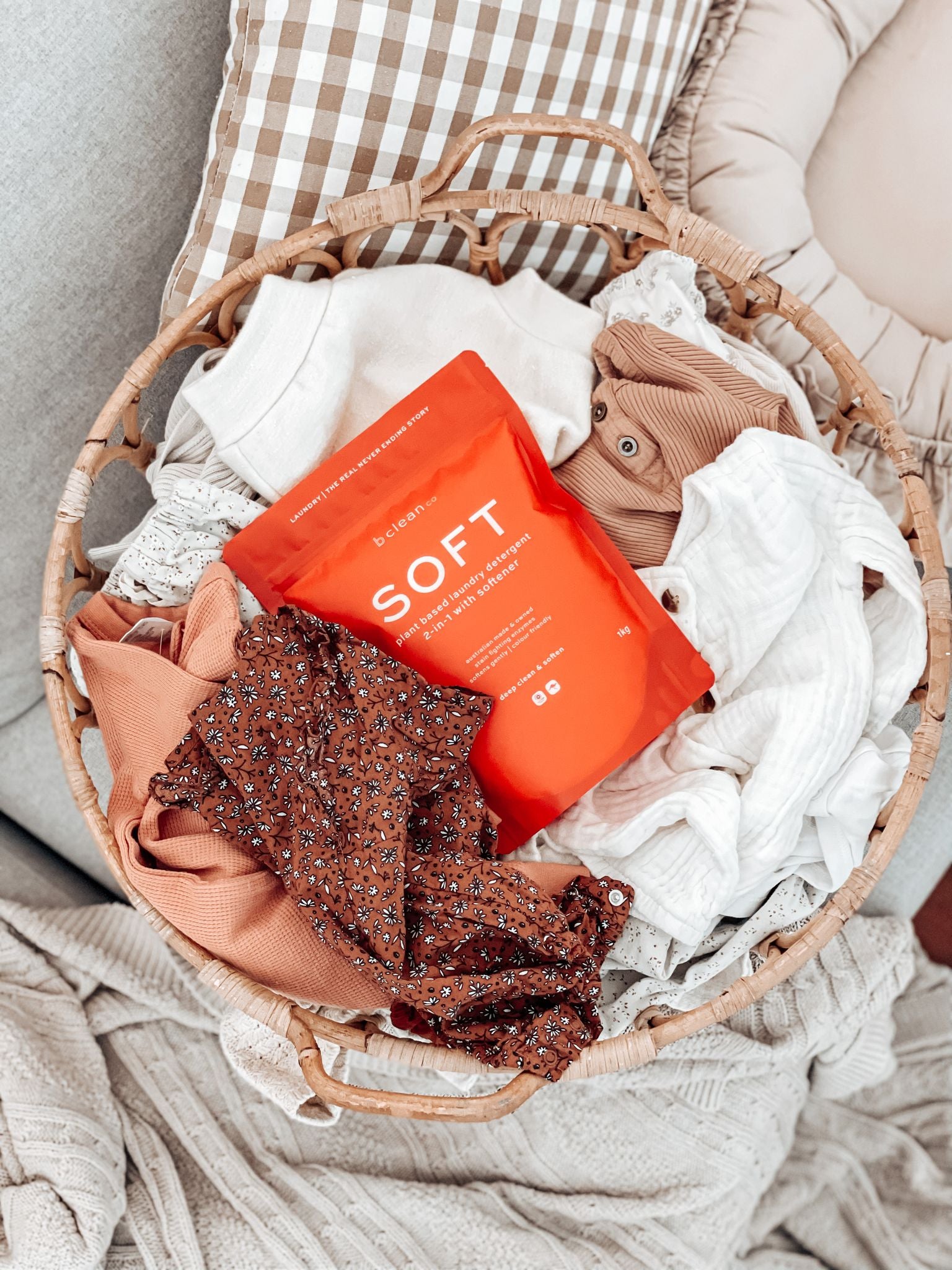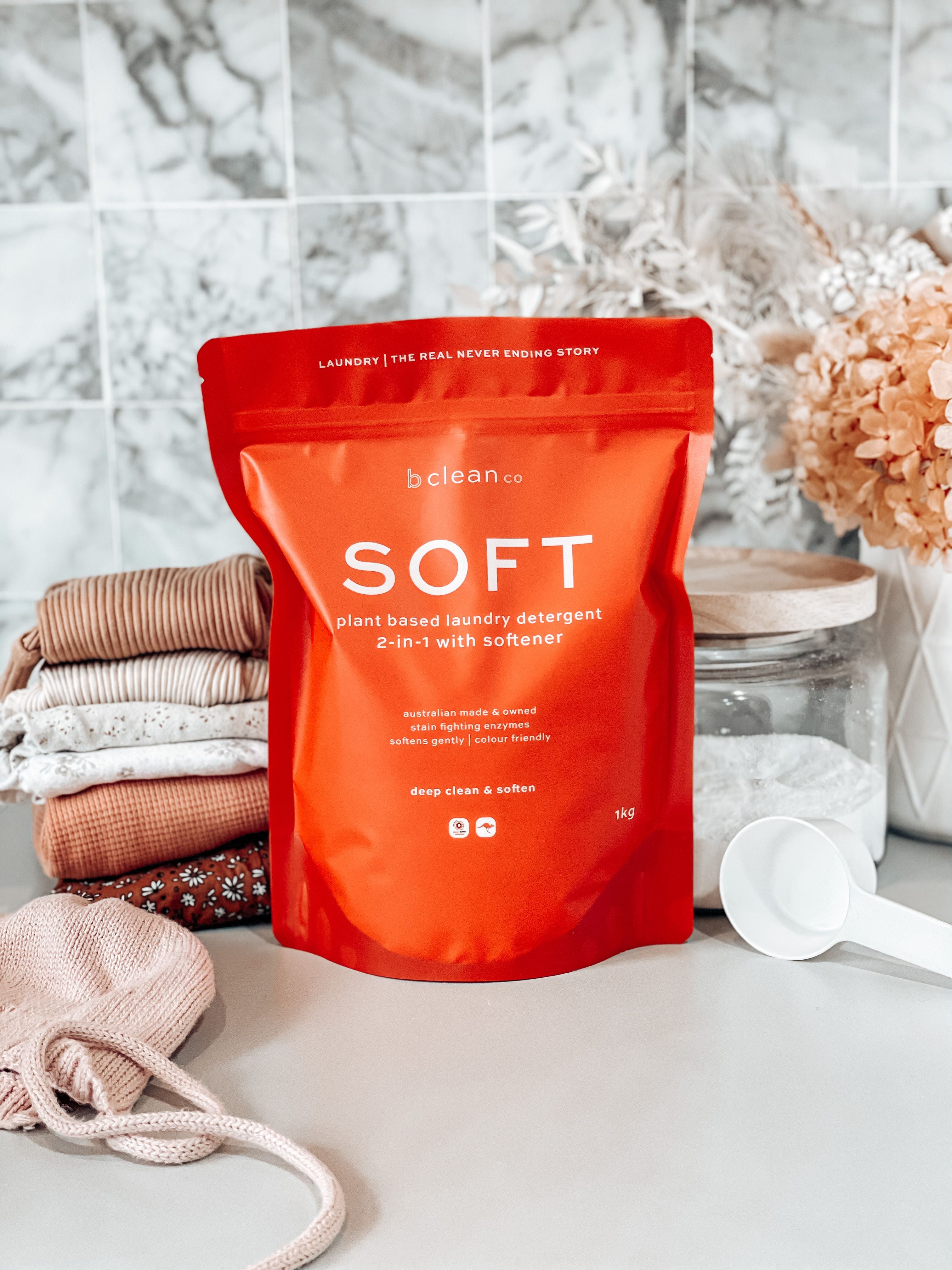 SOFT Eco Laundry Detergent is the plant based, laundry detergent with added softener designed to bring those natural fabrics back to that oh-so-nice soft feeling, without compromising absorption. 
Designed for deep cleaning with its 5 powerful enzymes, this is a must-have for those using natural fabrics. Modern Cloth Nappies, Towels or Clothing. Officially endorsed by Clean Cloth Nappies .. this is a game changer.
This is safe for sensitive skin, contains no nasty chemicals, 100% Australian Made!
Adds Softness, without compromising absorbency – can take up to 2-3 washes to see results depending on water hardness.
100% Australian Made | Deep Cleaning Powdered Laundry Detergent with added Softener
Plant Based Superpowers 
A powerful combination of plant-based surfactants, deep cleaning organic enzymes and that give you great results every time.
No Nasties
We hate nasty ingredients too and know how important taking care of your family needs are so you won't find any hidden ingredients in our products. Free from SLS, SLES, Parabens, Phosphates, Synthetic Fragrances or Dyes, and Optical Brighteners. Nothing but the good stuff. Grey Water & Septic Safe plus Vegan Friendly & Not tested on animals.
Cloth Nappy Safe
One of the hardest things to clean (and keep clean) so b clean co developed a powerful combination to keep even the nastiest of items clean and smell-free.
This formulation won't compromise absorbency, unlike other fabric softeners. Finally, a 2 in 1 detergent that really works
Removes the Stinks
Deep cleaning formula prevents eye-watering stinks every time, especially if you follow our washing advice.
Smells like a Mojito
With a Lemon Myrtle & Bush Mint natural fragrance, it really means business. This gentle scent rinses free, so leaves no residual smell but it gives you a little puff of freshness with every load of laundry.
Recycle Me
We hate the hard packaging that most detergents come in so our soft pouches are recyclable. 
How to Use
General Laundry
ADD ½-1 scoop (45 grams) powder to your main wash cycle.
Use half the amount for smaller loads. 45 grams = 2 Tablespoons
The optimum temperature is 40-60 degrees to activate enzymes, however, please follow garment care advice.
Dissolve powder before adding to clothes if hand washing. Do not apply directly onto clothing as staining could occur.
Cloth Nappies... Perfect for Bamboo Fleece, Hemp Fleece, Cotton Fabrics.
Add ½ scoop to prewash.
Add 1-2 Scoops to Main Wash.
Recommended temperature: 40-60 degrees for optimal cleaning
TIPS
Ensure your load is 3/4 full when wet for best agitation.
In Wash Booster can be added, but not necessary.
To ensure softness continue to maintain use.
Softness will disappear if you change detergents, so recommended to use every wash cycle to keep your items soft.
Ingredients
Sodium carbonate, Sodium citrate, Sodium percarbonate, Sodium silicate, plant-based surfactants, sequestrants, enzymes, softener, natural fragrance
Share
It made my diapers SOFT!
When we first started using cloth diapers, we used Rockin' Green, and loved everything except for the price. We switched to Tide, and then to Persil, but I was never quite satisfied with the smell - I'm someone who's quite sensitive to fragrances and I generally don't like the smell of detergent.
Enter bclean.co's SOFT. It did everything RGDD did, except it also made my diapers SOFT! We aren't in the habit of using softeners here, so when our diapers got crunchy, I figured it's probably just the fibres opening up and becoming more absorbent. But when we started using SOFT, I noticed the diapers getting softer and nicer to touch. (Most of our stash are fitteds, whereas previously I was using cotton prefolds - I did notice that with our cotton prefolds, the difference is less noticeable. But still a difference!) We also used it on our clothes-only loads, and it kept the fabrics velvety soft and light to wear.
I also experimented with dosage, to see how far we could save and stretch the detergent for more cost savings. For a while, I did 1/3 scoop prewashes and 3/4 scoop main washes on an 8kg LG front loader. The detergent is really quite effective - the picture below shows a Before and After prewash only on a poopy diaper, and most of the stains were gone, without adding any Vanish/booster! Sadly, while the stains were gone, after a while I noticed a phantom poop smell so we decided to go back to Clean Cloth Nappies' recommended dosage of 1 scoop for main washes and 1/2 scoop for prewashes. That said, you might be able to get away with 1/3 scoop prewashes, depending on the soiling of your diapers, especially if you are in the habit of doing 60 degree washes (we are, as we are slightly more paranoid about night diapers).
To increase cost-savings, if I were to purchase this detergent again, I would probably use it for main washes only. I figure it doesn't make sense to have softeners in your prewash, and if you're sensitive to smell like me, you could still prewash with one of the more mainstream detergents and then use this for your main wash, which would maximise the impact of softeners and keep the diapers/clothes soft when you wear them.