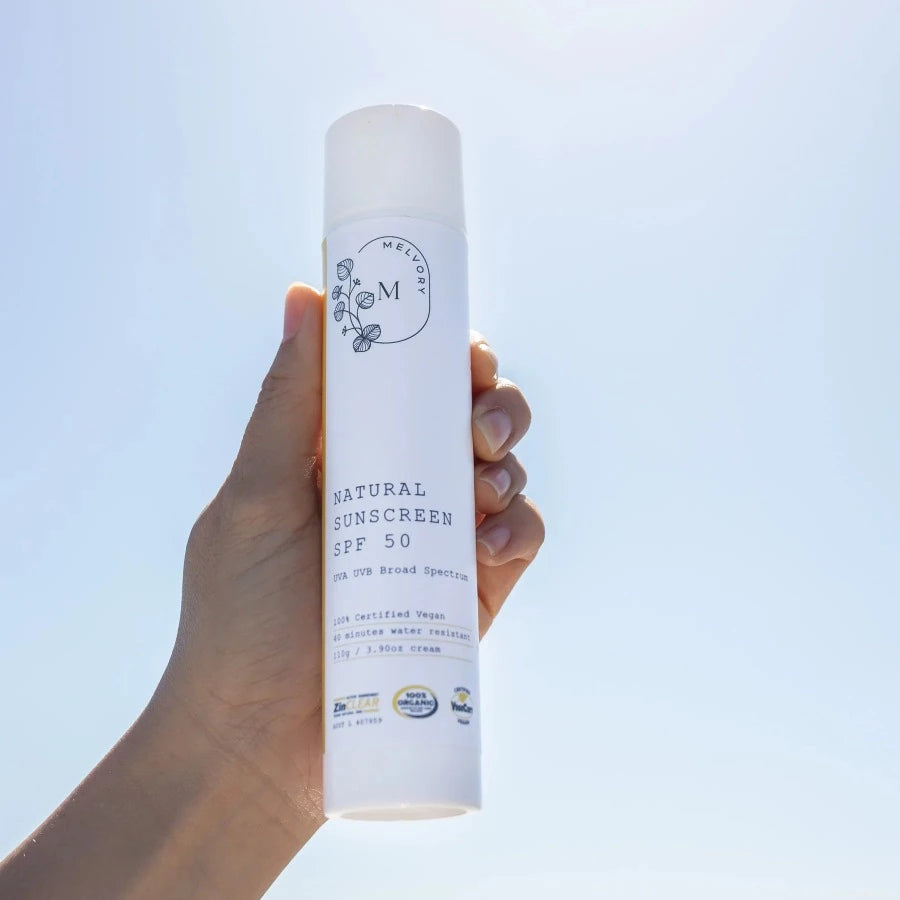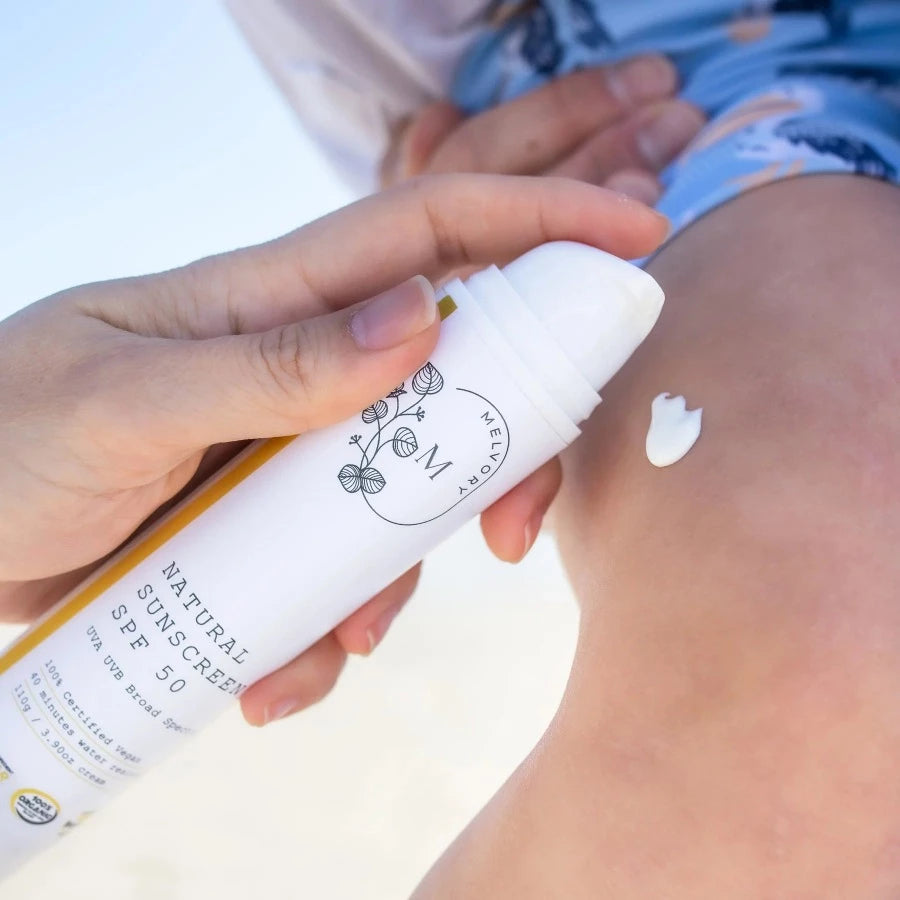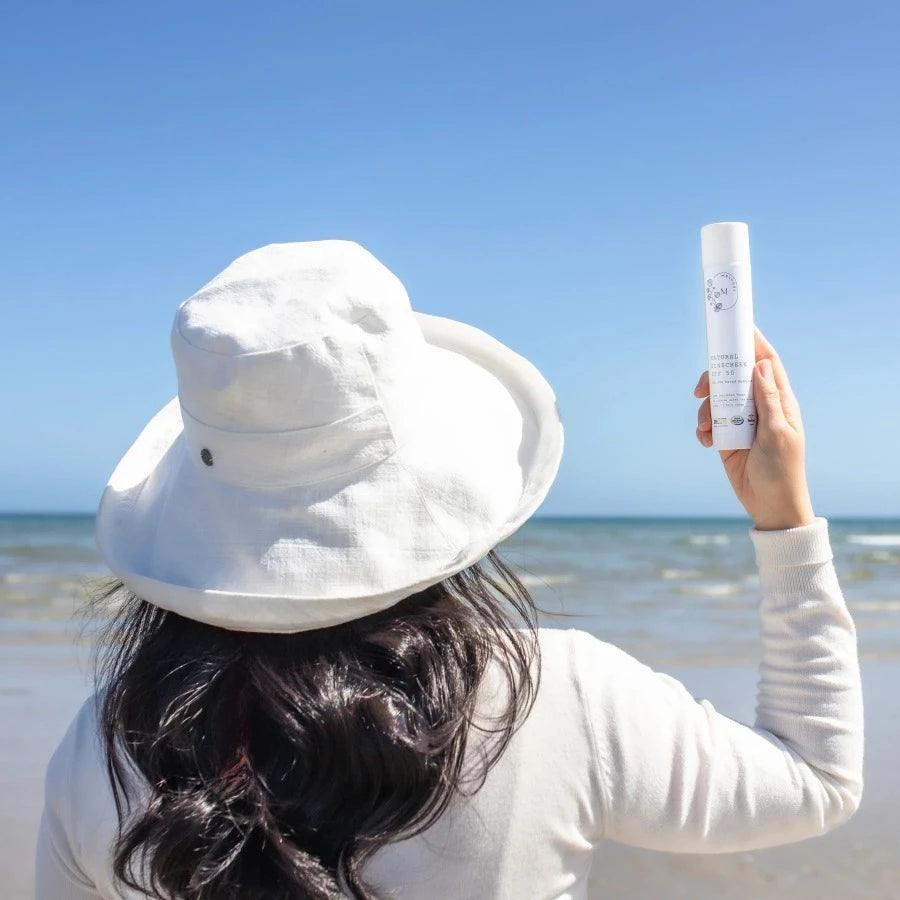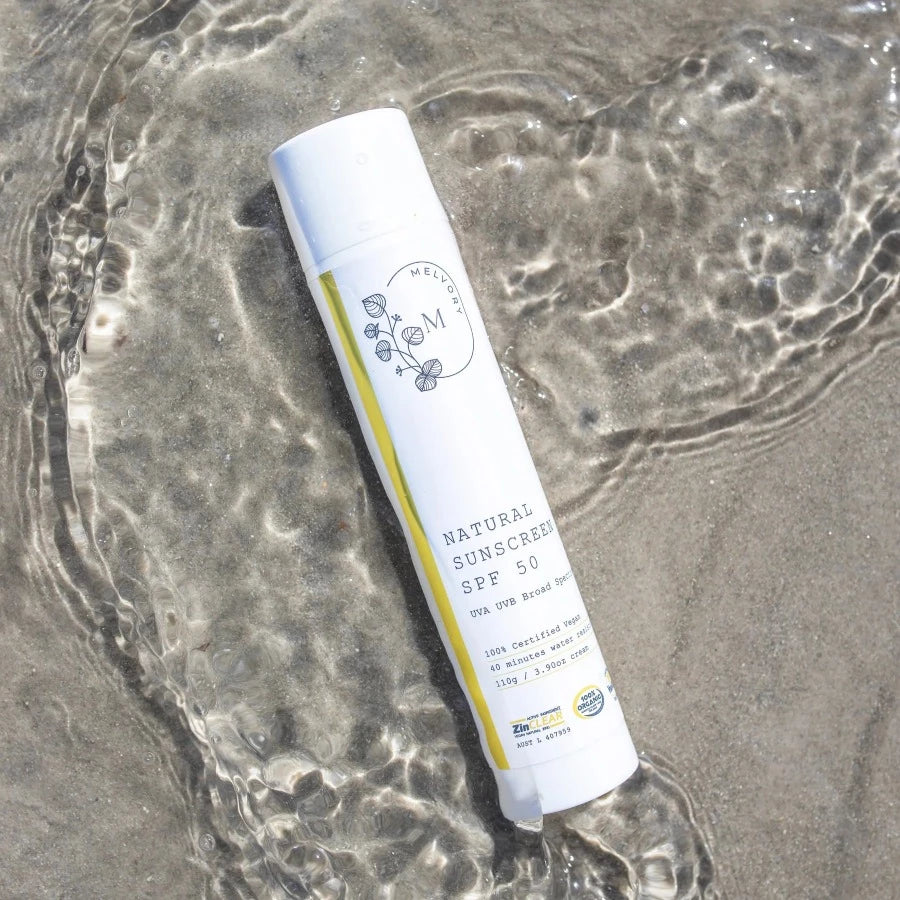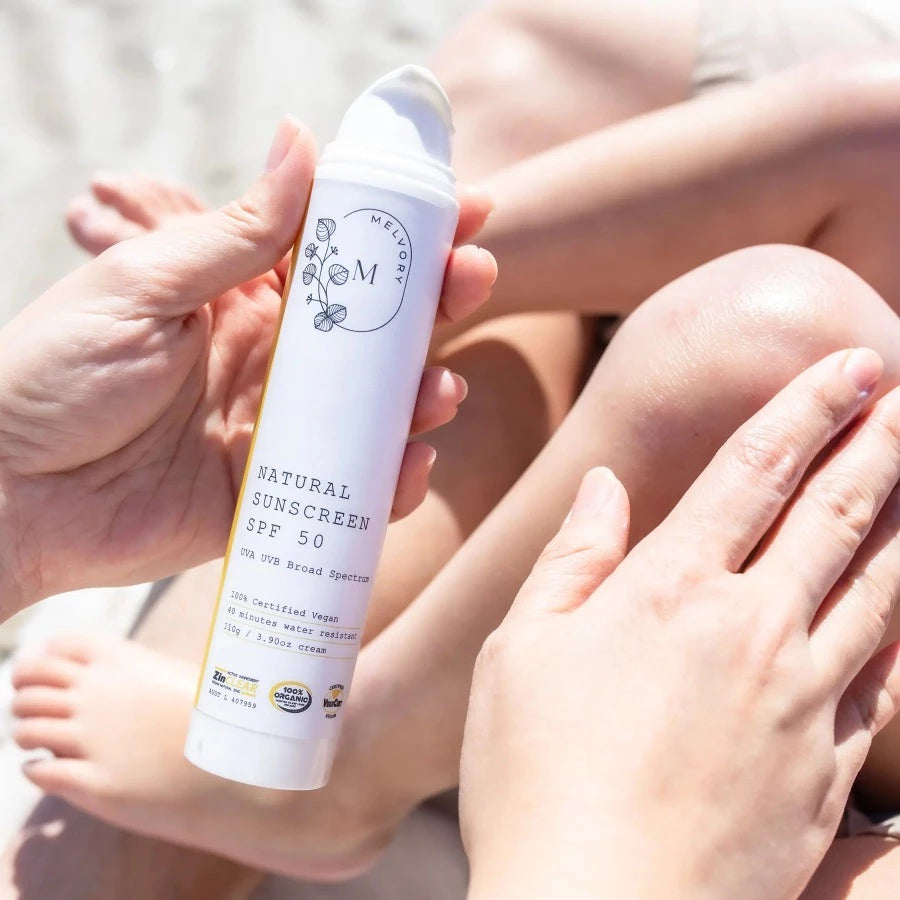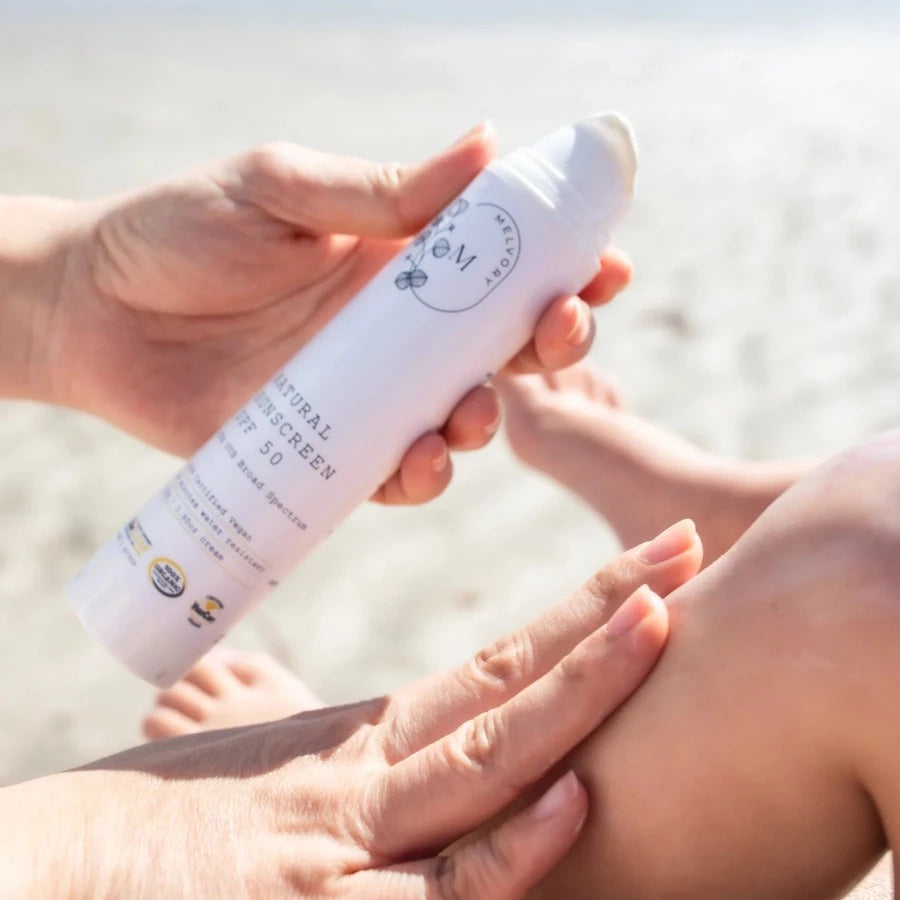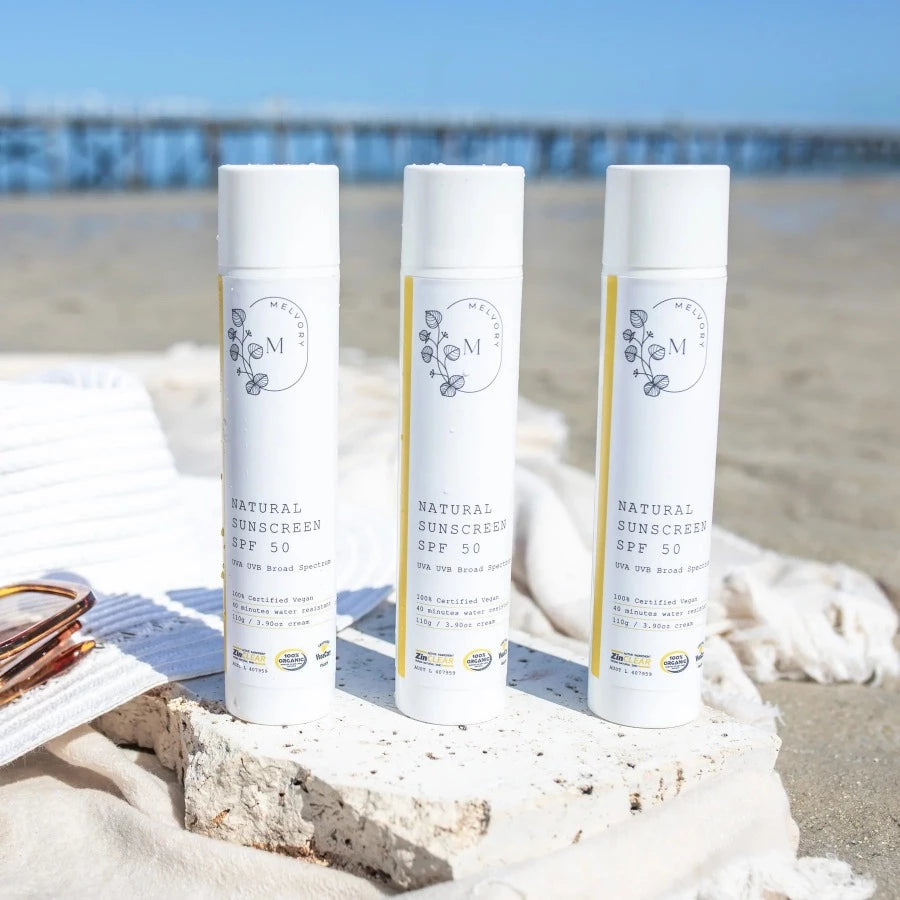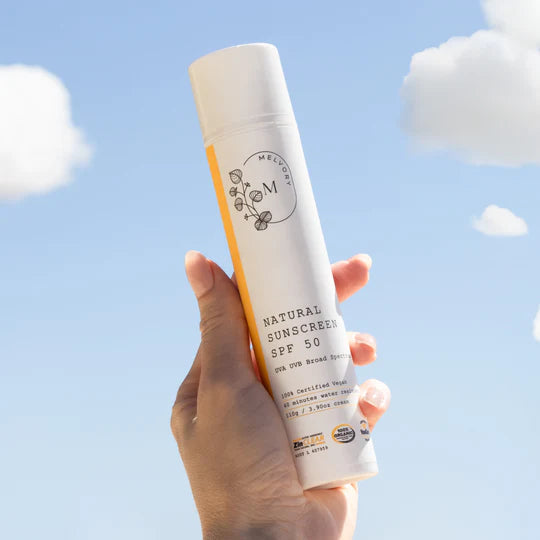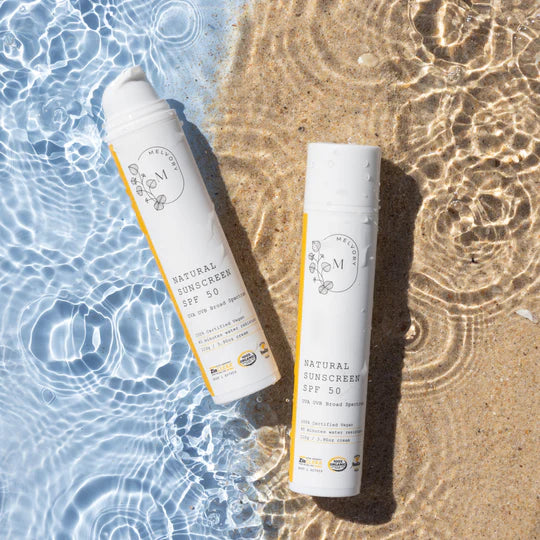 Natural Sunscreen SPF 50 for the Whole Family (110g)
Our 100% Organic Australian-made sunscreen is a game-changer. With certified organic ingredients and vegan certification, it's a guilt-free choice for both your skin and the planet. Say goodbye to toxic chemicals and embrace natural protection that's gentle on your skin, dermatologist tested, and safe for babies and expecting mothers. Plus, our sunscreen is Reef and Ocean Safe, ensuring you can enjoy the sun responsibly without harming our precious aquatic ecosystems. Rest easy knowing it's TGA approved, delivering top-notch sun protection. Crafted with care for the most sensitive of skins and leaves no white cast!
Why Melvory's SPF 50 Natural Sunscreen is amazing:
Australian Made

All natural, no toxic chemicals

100% Organic Certified

Vegan Certified

Reef & Ocean Safe

Dermatologist Tested

Safe for babies and pregnant mums

No white cast

TGA approved
How to use:
Apply to the skin in generous amounts over all exposed areas 20 minutes before sun exposure, reapply every two hours or more often when sweating, swimming or after towelling.
Pro-tip: Use this sunscreen together with Melvory's Mineral Powder Foundation for a semi-matte, smooth and flawless complexion.
HERO INGREDIENTS 
Zinc Oxide
A mineral sunscreen that protects the skin from harmful UV rays, Zinc oxide 
can also help with irritating symptoms such as itching, redness, peeling 
skin
 and inflammation.
Sunflower oil
Sunflower oil helps maintain the skin barrier and decrease trans-epidermal water loss. It is rich in vitamin A & E, is hypoallergenic and has amazing lubricating properties.
Jojoba Oil
A light and golden coloured oil that contains vitamin A, D and E to keep skin beautiful.

Vitamin E
An anti-oxidant to protect skin against environmental damage.

Full ingredient list:
Active Ingredient: Non-Nano Zinc Oxide 25% w/w

Inactive Ingredients: Organic sunflower seed oil, Organic jojoba seed oil, aqua, Organic glycerin, Candelilla Wax, Organic Vitamin E, Organic isostearic acid (natural emollient derived from vegetables), Organic polyglyceryl-3 polyricinoleate (natural emulsifer derived from plants), Organic polyhydroxystearic acid (castor oil emulsifier) , potassium cetyl phosphate (SPF booster), Organic maltodextrin (plant based skin softener), xanthan gum (thickener), sodium chloride.
FAQS
1. What is the shelf-life of this product?
2.5 years from date of manufacturing - check in with us on the current stock expiry! Best to store below 25°C. Protect from excessive heat and direct sun light.
2. Can I use this during pregnancy?
Yes, every Melvory product is pregnancy and breastfeeding friendly.
3. Why is it important to use Sunscreen?
Wearing sunscreen is essential for protecting your skin from the harmful effects of the sun's ultraviolet (UV) rays. UV radiation can cause a wide range of skin damage, including sunburn, premature aging, and an increased risk of skin cancer. By applying sunscreen regularly, you create a protective barrier that shields your skin from these dangers. Sunscreen helps prevent painful sunburns, reduces the appearance of wrinkles and age spots, and, most importantly, lowers the risk of skin cancer, making it a simple yet crucial step in maintaining healthy and youthful skin while safeguarding your long-term well-being. So, whether you're spending a day at the beach or just going about your daily routine, make sunscreen a part of your skincare regimen to enjoy the sun's beauty without compromising your skin's health.
 
Upgrade your sun protection with our 100% Organic Sunscreen. Made in Australia, it's pure, free from toxic chemicals, and certified organic and vegan. Reef & Ocean Safe, dermatologist-tested, and safe for all, including babies and pregnant mums. TGA approved for your peace of mind. Choose skin protection that's safe, effective, and eco-friendly – choose Melvory's 100% Organic Sunscreen today. 
Share