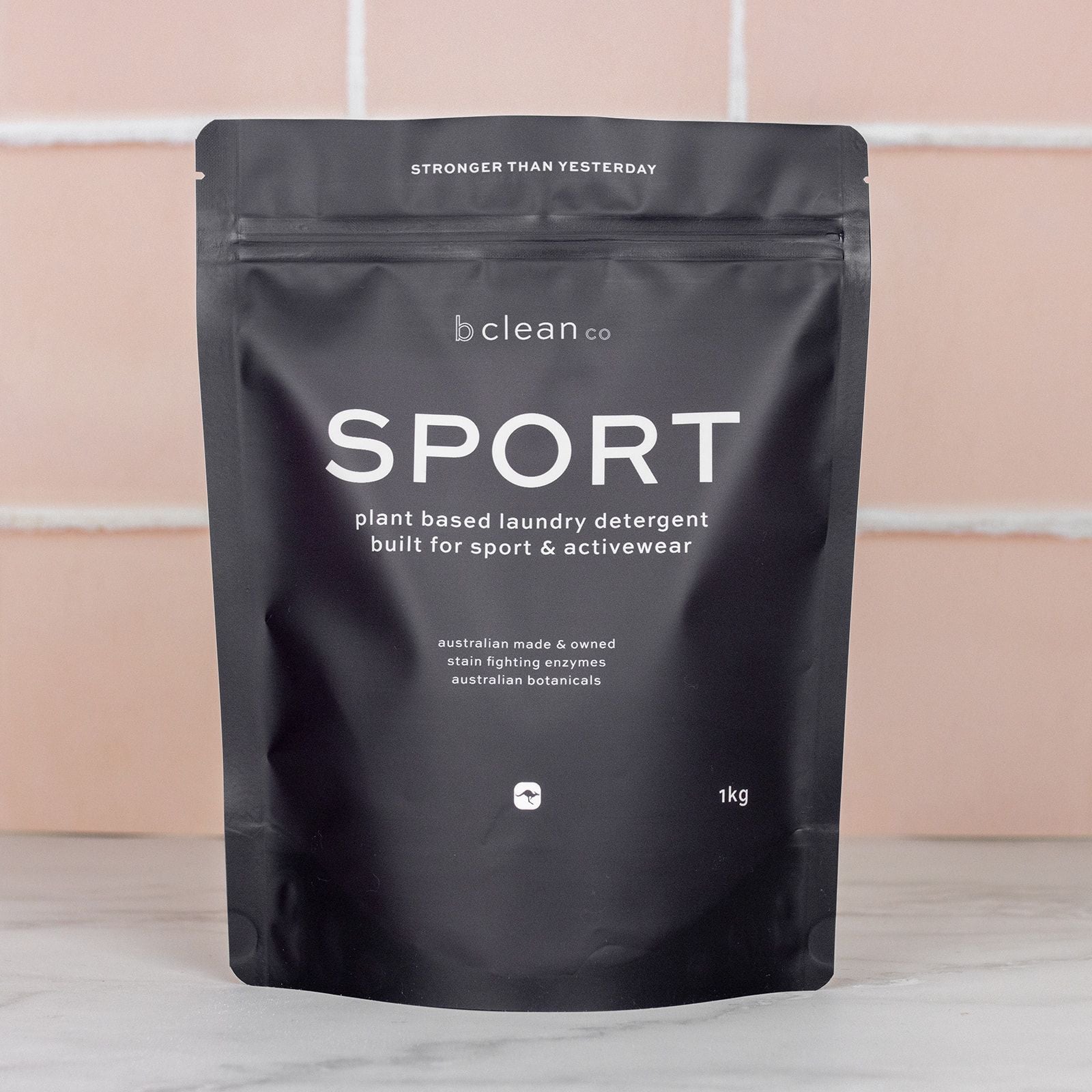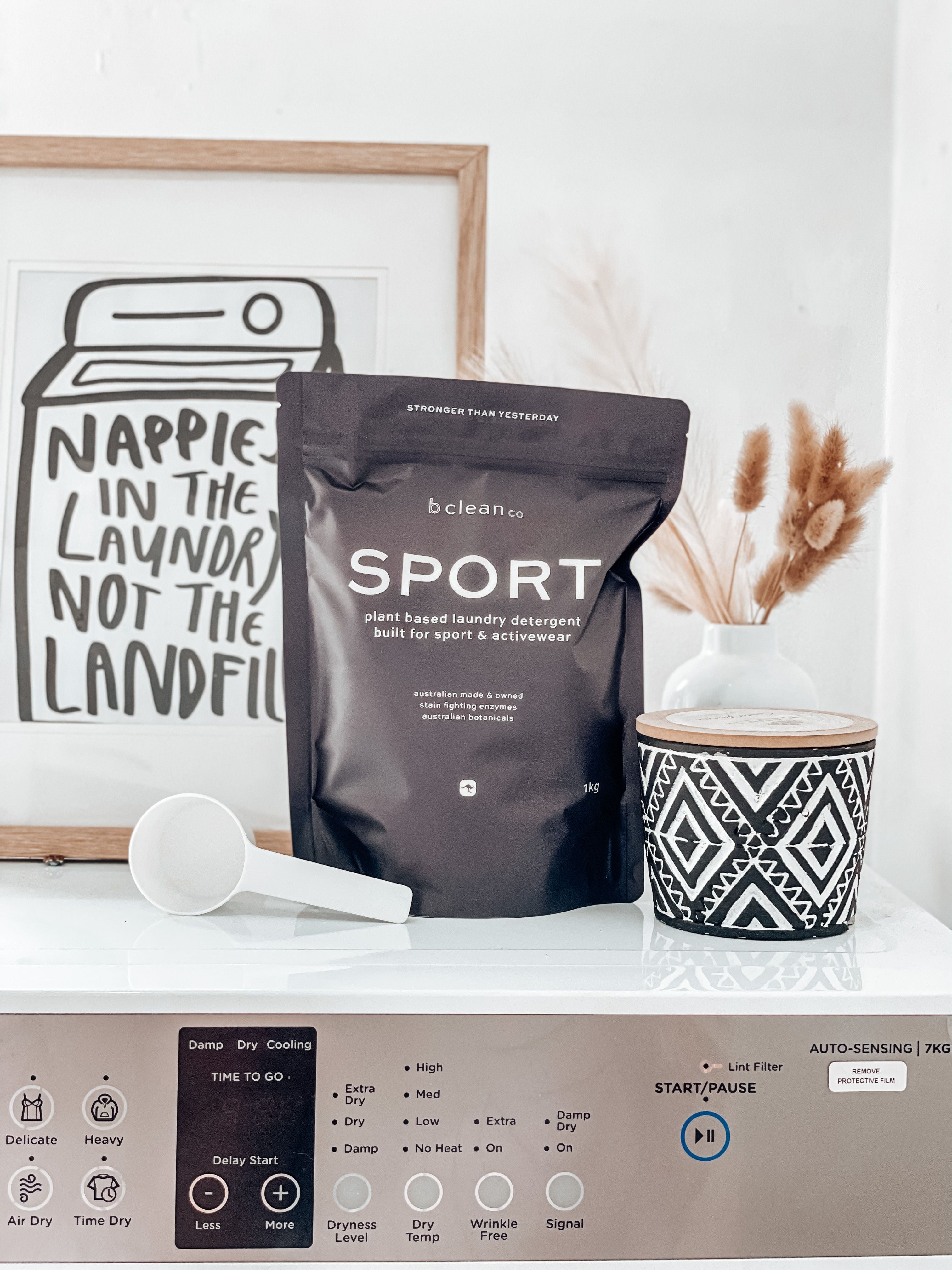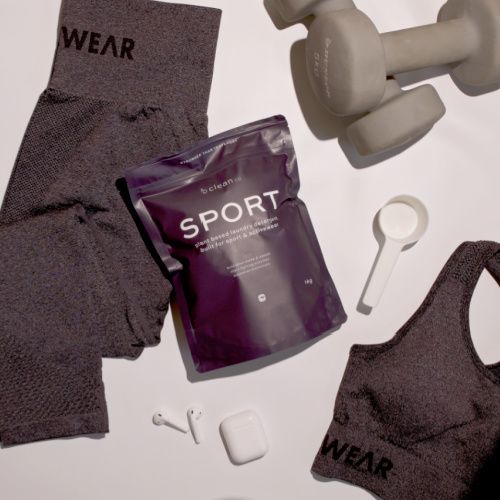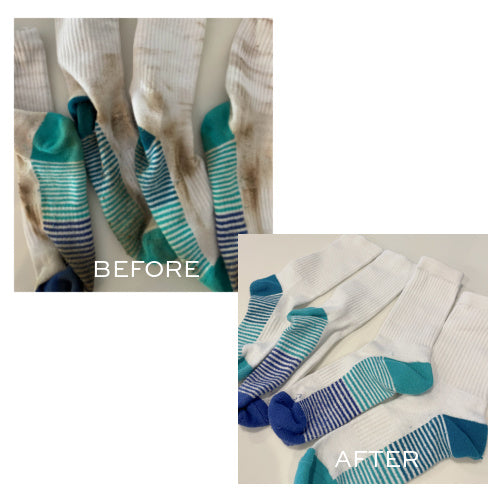 SPORT Eco Laundry Detergent is the plant based, laundry detergent designed for those sweat filled, body pumping sports outfits. From your activewear, kids sport, hats, shoes, pro-athletes and beyond this is designed to de-funk those hard-to-clean sports wear items.
Think about how much blood, sweat & tears really gets absorbed by your sports wear. The more you train, the more you sweat, the more funk you'll find which is why sports gear often holds smells and odours that you can never seem to get rid of. Enter SPORT by b clean co. Your de-funk saviour. 
100% Australian Made | Deep Cleaning Powdered Laundry Detergent designed for SPORTS & ACTIVEWEAR
Plant-Based Super Powers
A powerful combination of plant & mineral-based ingredients, 5x deep cleaning organic enzymes and that give you great results every time.
Removes the Stinks
Our deep cleaning formula prevents the eye-watering stinks every time, especially if you follow our washing advice. DE-FUNK if needed, then maintain usage to keep that precious sportswear in tip-top condition.
Natural Fragrance | Scented with Native Quandong & Finger Lime this smells just like heaven we think! Rinse-free scent.
No Nasties
We hate nasty ingredients too and know how important taking care of your family's needs is so you won't find any hidden ingredients in our products. Free from SLS, SLES, Parabens, Phosphates, Synthetic Fragrances or Dyes, and Optical Brighteners. Nothing but the good stuff. Grey Water & Septic Safe plus Vegan Friendly & Not tested on animals.
Recycle Me
We hate the hard packaging that most detergents come in so our soft pouches are recyclable. 
How to Use - General Laundry
ADD 1 scoop (45 grams) powder to your main wash cycle.
Use half the amount for smaller loads or hand wash. 45 grams = 2 Tablespoons
The optimum temperature is 40-60 degrees to activate enzymes, however, please follow garment care advice. The detergent will work in cooler temperatures, however, 40 degrees is best.
Dissolve powder before adding to clothes if hand washing. Do not apply directly onto clothing as staining could occur.
How to Use - De-Funk Sports Gear
The plant-based enzymes in SPORT are designed to get in deep into the fibers of your gym gear and really remove all the funk-i-ness you don't want to think about. So the best way to remove this build-up especially if you have been using weaker detergents is to DE-FUNK as follows.
Step 1
Add 1-2 Scoops of SPORT detergent to your sink/bucket/Strucket in lukewarm water, and mix everything around until the powder dissolves.
Step 2
Add your funky, smelly, nasty, not-so-sure about sports gear to a large tub.
Step 3
Leave to soak and de-funk for 1-4 hours. Go for that walk, lift those weights, or put your feet up while SPORT does its magic.
Step 4
Take a pic of that nasty-looking water (and send it to us) then add your items to your washing machine and run them through a short cycle with NO detergent. Even go the extra rinse if you like. Line Dry. Smell the no-more-funk sports gear and bask in the glory of sweat-free, ultra-clean sports gear forevermore.
To maintain this funk-free workout gear, make sure you use SPORT detergent in every wash.
TIPS
Ensure your load is 3/4 full when wet for best agitation.
In Wash Booster can be added, but not necessary
DE-FUNK is great for socks, hats, canvas sneakers, activewear, karate uniforms, cricket whites, football gear, gym bags, yoga mats, car seats, dog beds.
Ingredients
Sodium carbonate, Sodium citrate, Sodium percarbonate, Sodium silicate, plant-based surfactants, sequestrants, enzymes, natural fragrance.
Share
Works just like a mainstream detergent!
*independent detergent review - bclean co*
I've been a long term user of non-mainstream detergents for a simple reason - my family cannot tolerate fragrance. I started out with RGDD but didn't like how the powder always clumped up, then tried allegro, seventh generation and eventually settled for tide free & gentle. I also tried Persil powder, a low-fragrance mainstream detergent, but it was still overwhelming.
After reading glowing reviews on CCN I knew this was the unicorn I was waiting for. I bought 2 packs each of BABY, SOFT and SPORTS from retailer Clothe in Love to trial. All 3 variants contain enzymes and are suitable for cloth nappies.
We're a family of 2 adults 3 children, 1 in full time clothe.
For an 8kg machine, I used 1.5 scoops (=3 Tbsp) for mainwash and 0.75 scoop (=1.5 Tbsp) for prewash.
Daily prewash on 60deg (we have night nappies), 3rd day mainwash on 60deg.
BABY - Very light touch of eucalyptus scent which dissipates quickly, similar to that of rocking green platinum. Requires a little more detergent for the same clean (1.75-2 scoops for mainwash).
SOFT - Contains added softener, but I don't feel any significant difference. (Disclaimer: I finish off the diapers in the dryer so we're comparing apples and oranges here). Again a very light scent from essential oils which dissipates quickly.
SPORTS - winner for us. Best clean and we don't need the added softener. Also has a very light scent from essential oils which dissipates quickly.
What I like about bclean:
⭐️ option to wash on 40deg instead of 60deg
⭐️ saves time and energy -> less washing to do as I can combine different loads and wash everything on warm
⭐️ it's powder. Yay to delay timer and overnight washing!
⭐️ use less detergent compared to other fragrance-free detergents
⭐️ easily accessible from Clothe in Love and they ship super fast! ❤️
TL;DR I've found my unicorn of a fragrance-free detergent that works just like a mainstream detergent.