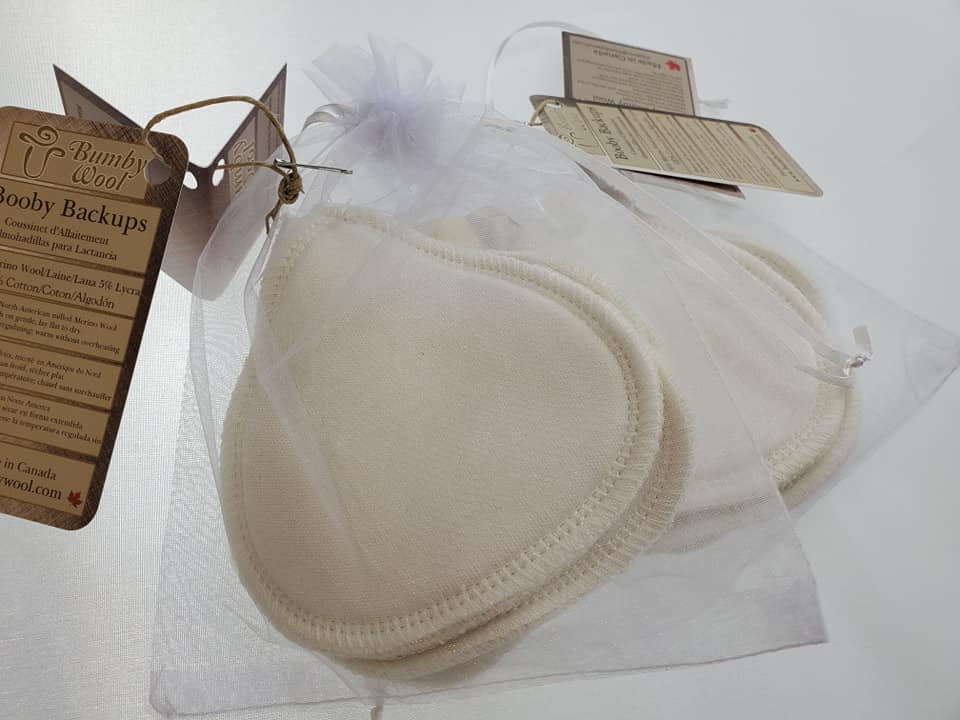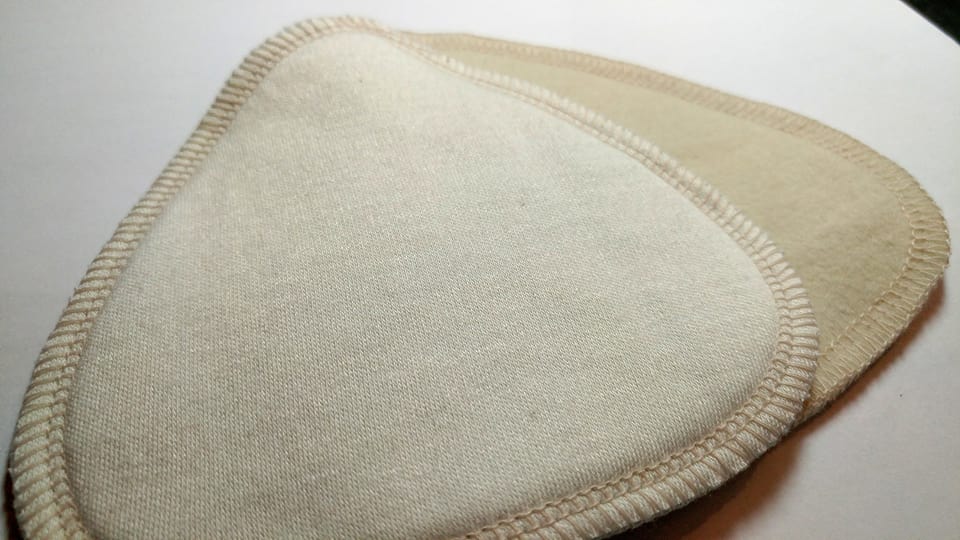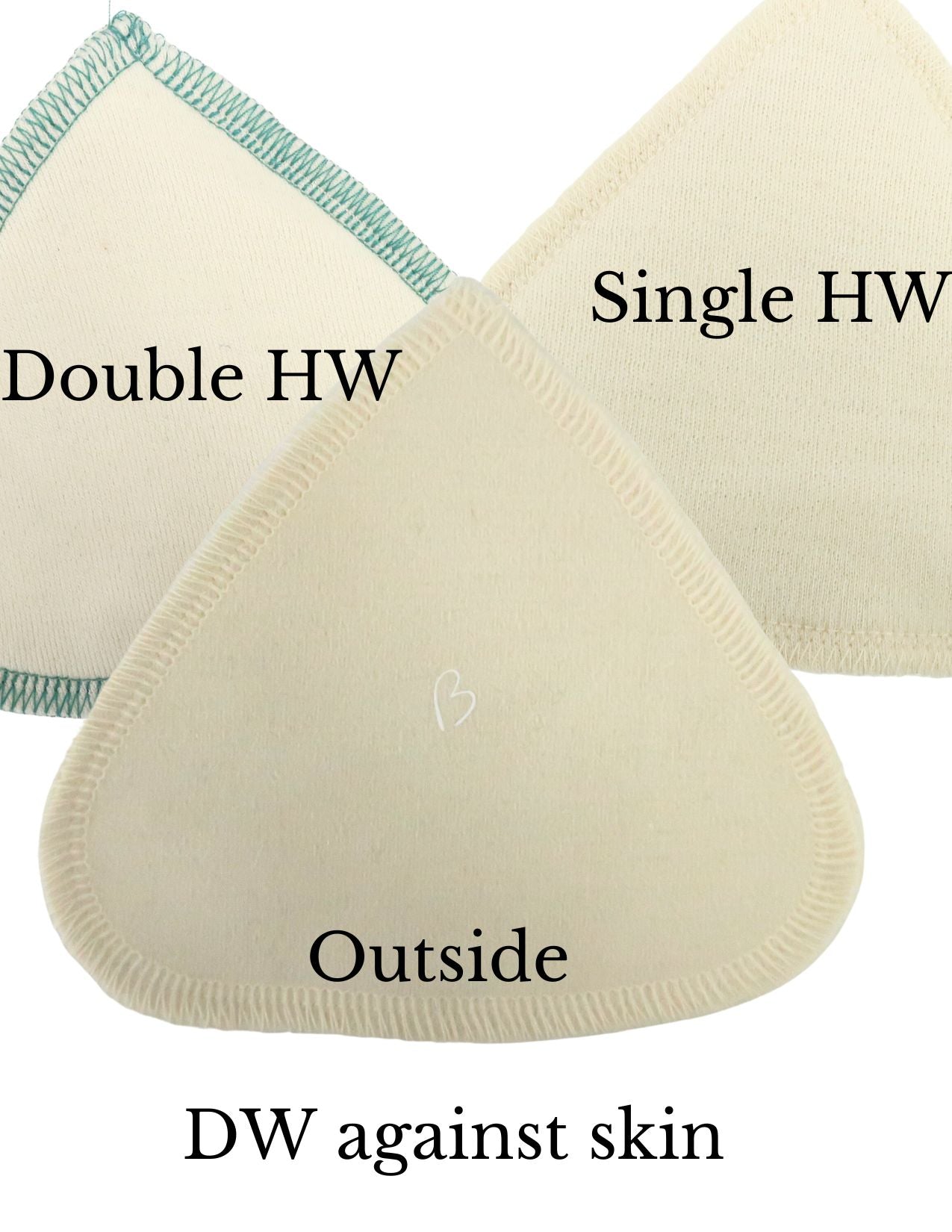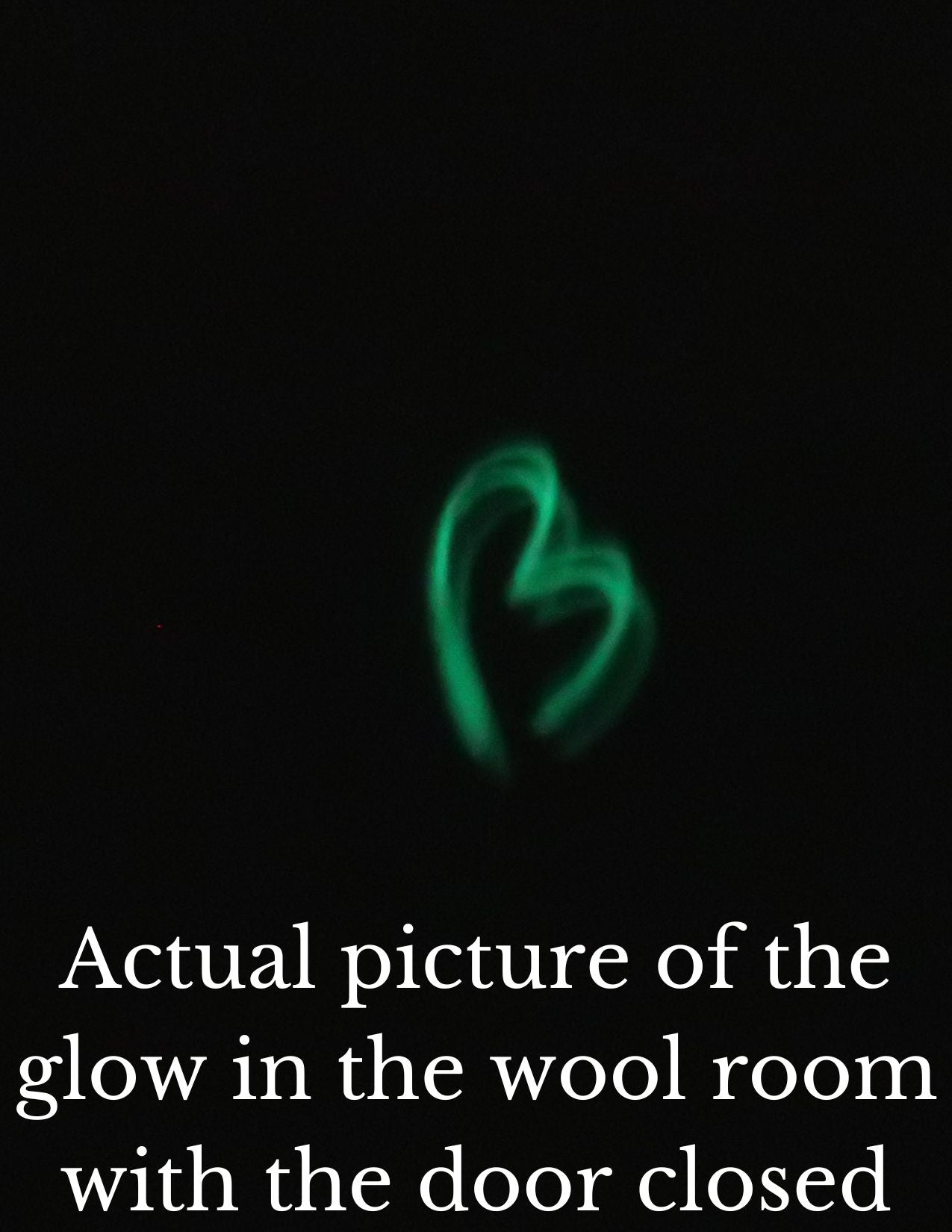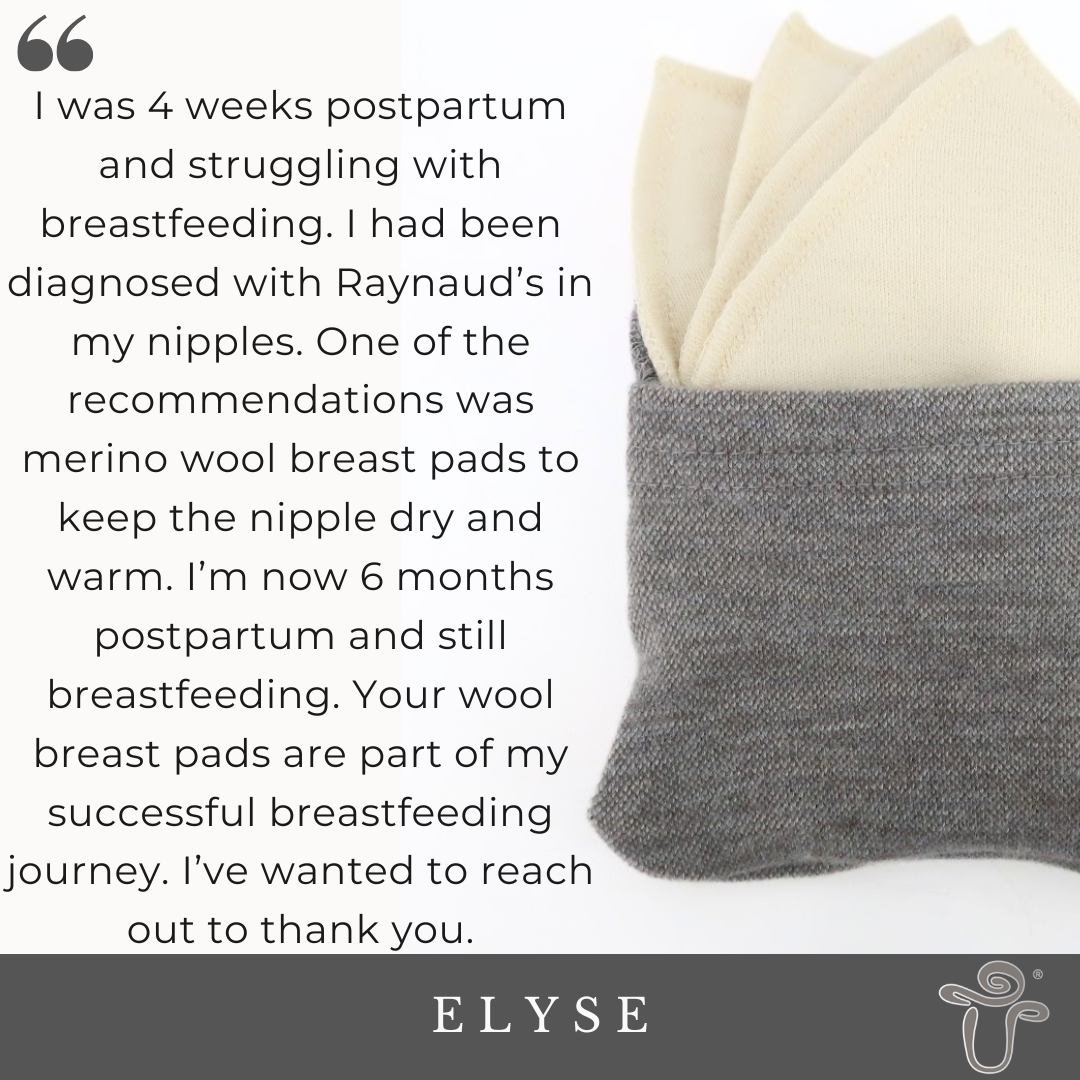 Bumby's got your back, ok technically your front. Trim and effective! Each pad is made with our natural undyed wool.  The wool is made in USA with cruelty-free organic fiber.
Bumby Booby Backup's are designed to catch leaks while breastfeeding. The rounded triangle shape contours to your body and mimics the shape of your bra. They are antibaterial which means they clean very easily and smell fresh. 
Many find that wool helps reduce the symptoms that many moms face with lactation such as Mastitis, Thrush and Raynaud's syndrome
Easy care: Hand or machine wash in lukewarm water on gentle with mild detergent.  Do not use fabric softener other than Unicorn soft as it will cause repelling issues.  Air dry is best. They are preshrunk so shrinking is not an issue however the fibers prefer air-drying.   
Booby Backups (OG): Organic cotton on the outside, wool on the inside! Comes in 2 pairs per pack. Softest Organic Cotton Interlock caresses the skin, absorbing quickly and drawing the moisture to the highly absorbent Organic Cotton Fleece core. These layers are backed with our famous breathe-able Bumby Wool Interlock, naturally blocking leaks.
Standard / Super (NEW): 100% organic wool in and out! Comes in 1 pair per pack. See below pictures for more info. Choose from Standard (Single Layer) or Super (Double Layer) pads. Rinse between uses and wash when needed. The anti-bacterial nature of the wool keeps them fresh far longer than other fibers. Optional reuseable pouch, perfect for your Breast Pads, plus your menstrual products such as pads, tampons or cups etc. (Only for preorder) 
 Some notes from Stephanie - founder and maker of these amazing pads: 
1. Wool breast pads

 

really are flockin' awesome
2.

 

Boring

 

breast pads are a great gift to recieve but a boring one to give. something fancy is ever better.
3. Leaking breasts and

 

nipples issues in general are common and

 

not talked about enough
4. A lot of the consumer products available in stores are sold and

 

distributed by men. Like so many at the show told me, oh we don't deal with mom stuff, just baby stuff. We

 

don't understand

 

it. It's too hard. Some literally ran away or said eyed us with the nipple talk. It was disturbing
5. I needed to add a cute yet functional "gimick" to make these funny, cute and more a baby gift idea.

6. I remember being a total

 

zombie

 

and losing stuff when my kids were young, fumbling in the dark looking for things.

 

Glow in the dark, so you know what side to go away from the breast and maybe more

 

easily find it on the table, floor, under the bed or wherever. It had to be small so you couldn't see it through the bras. (Reflecting on my 20 year old self with fake nails in the club waving my hands around like a princess). it has to be cute, so thought hearts. but not too cutesy or babyish, because

 

you are a queen

 

now and we deserve sophisicated hearts. Then we (naomi) came up with the idea for a heart like a

 

B for bumby but still a heart

 

shape. boom perfect.
7. Another thought was thickness. Some

 

leaked through

 

everything and had

 

uneven flow so I needed

 

standard and super

 

options and a way to know

 

which was which visually. Also helpful for sleepy new parents, plus also to get an order child or the other parent to get the right pad from the bathroom sink so you can stick to your rightful place on the couch without moving. Like if they can't find the glow in the dark pad with the

 

teal thread, then I support your choice to yell at them, side eye them, or however you choose to scold them, you all earned it.
Share
Soft, absorbent and comfy
When I asked Clothe In Love for recommendations on nursing pads, I was pointed to the Bumby Booby Backups that were originally hidden on the site. I've used them for nearly 3 weeks now and am happy to post my honest review 😄
Disclaimer: Before using them, I was using disposable nursing pads, so I have no basis of comparison between reusables. But am happy with my experience anyway!
At $27.50 for a set of 4/2 pairs, this isn't the cheapest option for nursing pads. But, you'll be getting bang for your buck since they are so luxe and comfortable! The inner layer (that goes against your skin) is cotton, while the outer layer is merino wool. This makes it super absorbent and breathable at the same time, with the cotton working to soak up all the excess letdown, while the wool allows your skin to breathe, even when the pads are worn for an entire day. What a world of difference from the disposable nursing pads I'd been using - I tried at least 3 brands of disposables and all made me itch non-stop!
I described nursing to a non-mummy friend as "incontinence from your boobs" 😭 But with these Booby Backups, I don't feel the leaks at allI! In fact, wearing them is even more comfortable than going bra-less as I don't have to deal with soppy shirts anymore. The only danger is not knowing when I have letdown, so my milk is somewhat "wasted", so you are warned! 😂