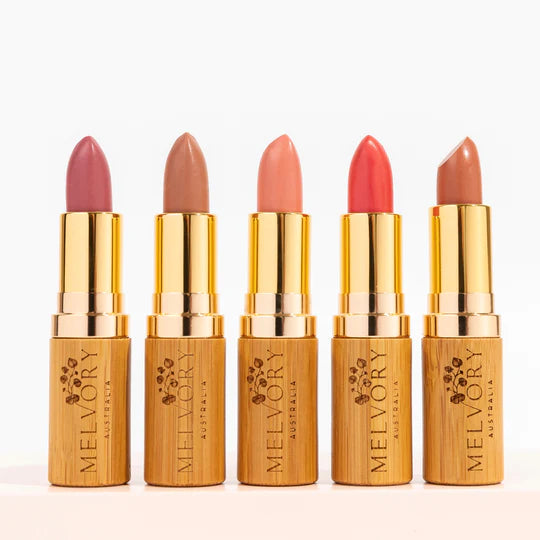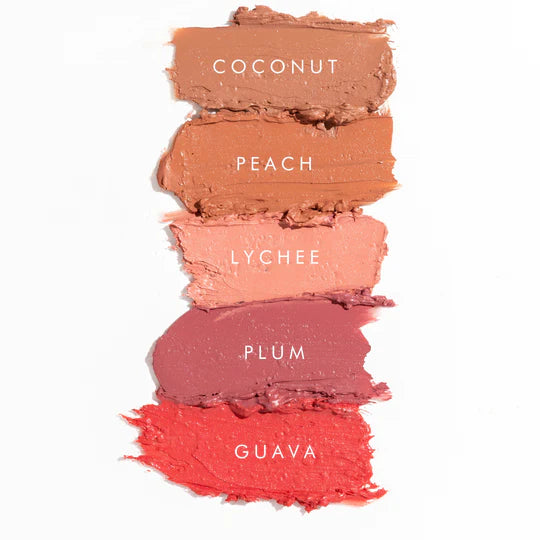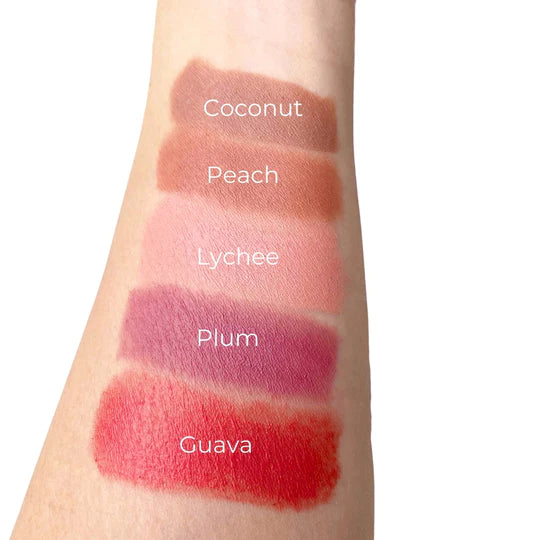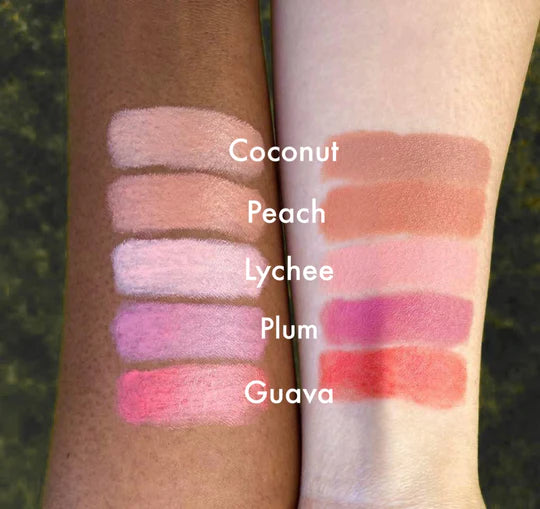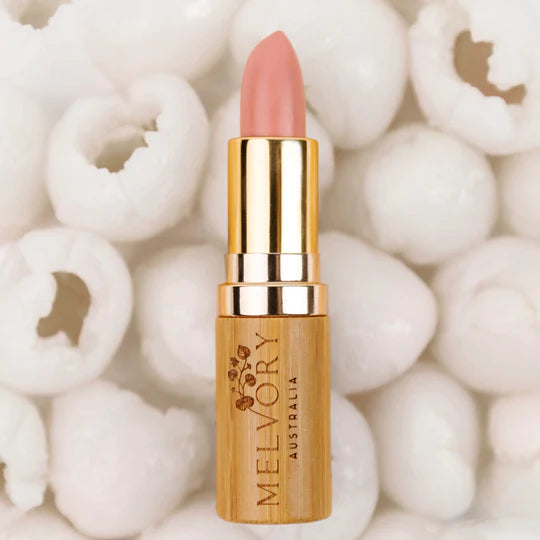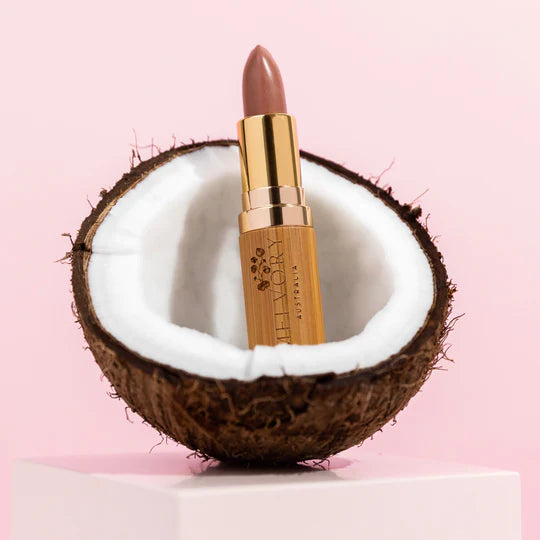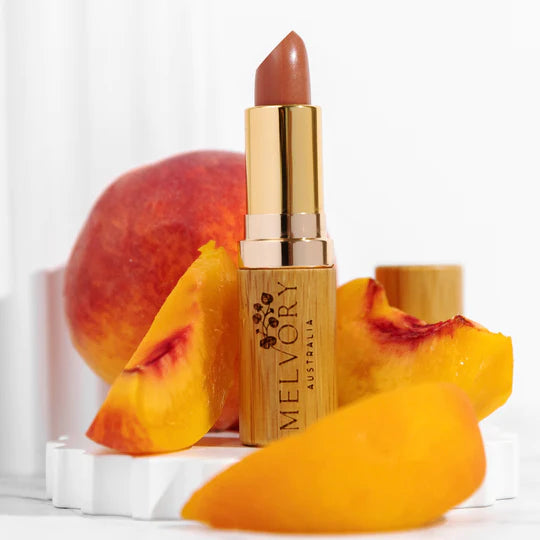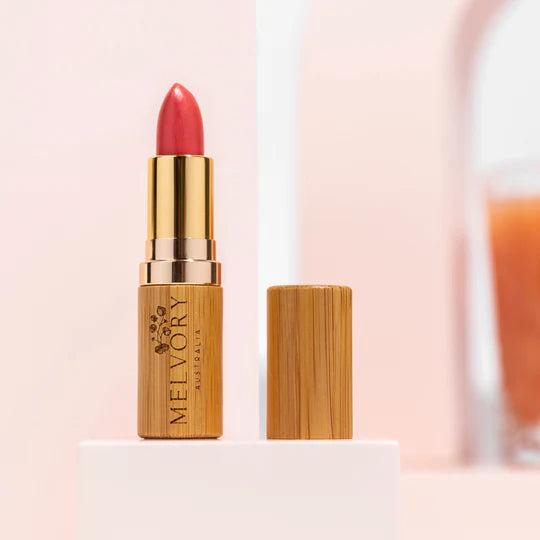 Vegan, Healthy & Non-toxic Lipstick
Melvory's fruit and superfood inspired vegan lipsticks are long lasting, hydrating and have a creamy rich, velvet texture. Enriched with Organic shea butter, Organic jojoba oil and vitamin E to nourish and moisturise the lips to keep them smooth and soft.
You'll love them because:
Medium to full buildable coverage
Comfortable to wear
Pregnancy and breastfeeding friendly
Long-lasting colour
Natural and toxin-free
Luxe, velvet touch
Eco-friendly bamboo tubes
Ingredients sourced from local fair-trade suppliers
Made with love in Australia
5 beautiful shades to choose from:
Lychee – nude pink, matte finish
Coconut – nude brown, matte finish
Peach – nude coral, matte finish
Plum – mauve pink, matte finish
Guava – pink with a tinge of red, light shine
How to use: Apply directly from tube or with a lip brush.
Texture: Smooth and velvety
Scent: Unscented (we try to keep things as natural as we can, so avoiding all artificial flavouring agents often found in commercial lipsticks)
Please note: We try to portray the colours as accurately as possible but colours may vary depending on your natural lip/skin colour. We do not accept returns for change of mind or wrong colour.
HERO INGREDIENTS
Shea Butter
Often used to remedy dry skin and to help protect the skin's natural oils. Keeps your lips soft and moisturised.
Jojoba Oil
Jojoba oil contains protein, minerals and a waxy substance that mimics collagen, is not greasy and absorbs easily into the skin. It also contains vitamin A, D and E which are great for skin.
Vitamin E
An anti-oxidant to protect skin against environmental damage.
Organic Castor Oil 
Castor oil adds that natural gloss to your lips. It penetrates deep into the skin tissue and the fatty acids help to moisturise the lips.
Full ingredient list:
Organic castor seed oil, Organic jojoba oil, mica, Organic carnauba wax, candelilla wax, Organic shea butter, ozokerite, Organic orange oil, strawberry seed oil, Vitamin E.
May contain titanium dioxide, iron oxides, pigment violet, calcium aluminium borosilicate, silica
FAQS
1. What is the shelf-life of this product?
Approx. 1 year. Once opened, use within 4 months. Store in a cool and dry place/room.
2. Can I use this during pregnancy?
Yes, every Melvory product is pregnancy and breastfeeding friendly.
3. I often get dry lips, will this help?
Yes, these lipsticks are made from nourishing plant oils and butters to moisturise your lips and protect them against dryness as you wear them.
Pro-tip: Apply some Avo Lip Butter 1 hour before you apply the lipstick. This will help hydrate and soften your lips. After applying your lipstick, apply another layer of Avo Lip Butter on top for longer lasting effect.
It is time to ditch your toxic-filled commercial lipsticks and try our handcrafted, natural and healthy lipsticks!
Share