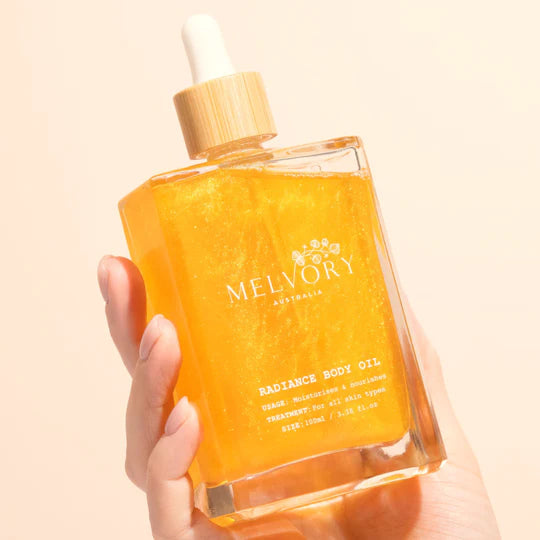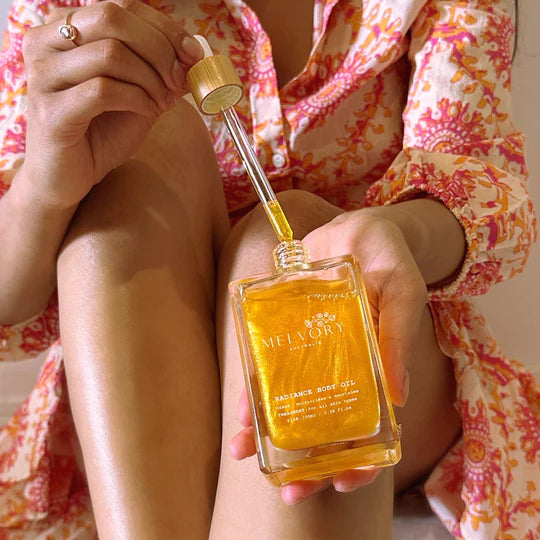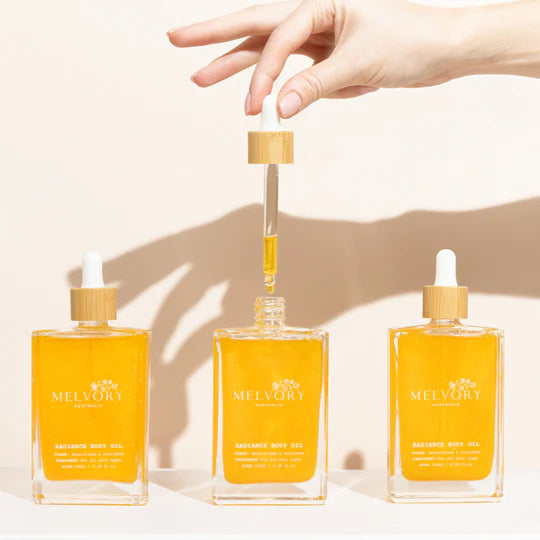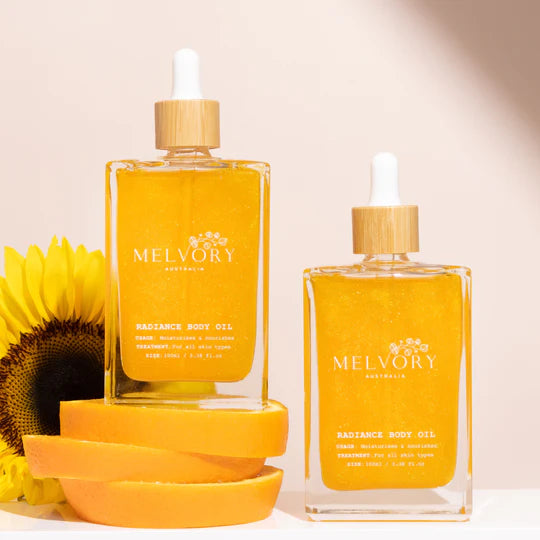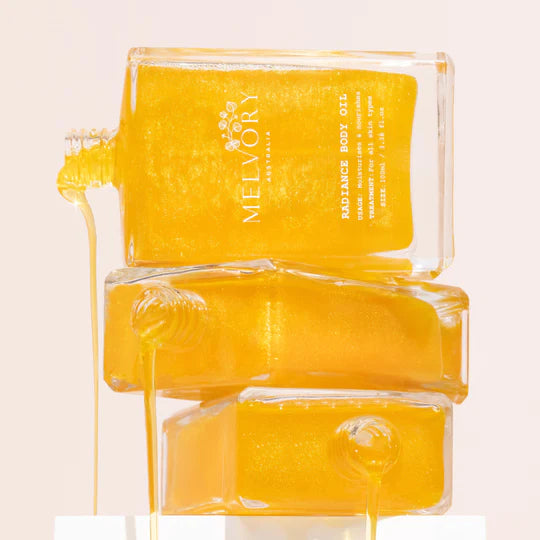 Radiance Body Oil (Skin Firming)
Advanced Skin-Firming and Age-Defying Oil (100mL)

A luxurious body oil that will leave your skin glowing with health and beauty. Enriched with apricot, calendula and geranium oil to deeply moisturise and nourish your skin, leaving it feeling soft and supple.
This lightweight, non-greasy formula absorbs quickly and easily into your skin, providing long-lasting hydration and radiance. The subtle yet alluring scent will envelop you in a sensual and invigorating aroma that will uplift your mood and soothe your senses.
Ideal for all skin types, this body oil is a must-have addition to your daily skincare routine to bring firmness back to your skin. Treat yourself and experience the ultimate in skin hydration and luminosity with Melvory's Radiance Body Oil.
How to use:
Shake the bottle then remove the dropper from the bottle and squeeze the rubber top to draw up the desired amount of oil. Dispense the oil onto your fingertips or directly onto your skin and gently massage in using circular motions.
For best results, use after showering or bathing when your skin is still slightly damp to help lock in moisture.
Radiance Body Oil is suitable for use on all parts of the body, including the scalp, and can be used daily as part of your regular skincare routine. 
Texture & Colour: Golden liquid with shimmer
Smells like: A harmonious blend of lavender, orange, geranium, and patchouli, combining floral, citrusy, and earthy notes.
HERO INGREDIENTS
Apricot Oil
Rich in vitamins A and E, which help to nourish and protect the skin, while also improving skin elasticity and reducing the appearance of fine lines and wrinkles. It is also easily absorbed by the skin, making it an excellent moisturizer
Calendula
Known for its anti-inflammatory and healing properties, making it an excellent choice for dry or irritated skin. It also helps to soothe and calm the skin, reducing redness and promoting a healthy, glowing complexion.
Grapeseed Oil
A lightweight, non-greasy oil that is easily absorbed by the skin, providing long-lasting hydration and nourishment. It is also rich in antioxidants and essential fatty acids, which help to protect the skin from environmental damage and improve skin texture and tone.
Almond Oil
A gentle yet effective moisturiser that helps to nourish and protect the skin. It is rich in essential fatty acids and vitamins E and B, which work together to improve skin texture, reduce inflammation, and promote a healthy, youthful appearance.
Sunflower oil
Sunflower oil helps maintain the skin barrier and decrease trans-epidermal water loss. It is rich in vitamin A & E, is hypoallergenic and has amazing lubricating properties.


Geranium
A natural astringent that helps to tighten and firm the skin, reducing the appearance of fine lines and wrinkles. It also helps to balance the skin's natural oil production, making it an excellent choice for all skin types.
 Natural Vitamin E Oil
Vitamin E is an anti-oxidant, and a much needed nutrient to the skin as it is helpful for many skin conditions, keeping skin healthy, soft and supple.
Full Ingredient List: Organic apricot oil, Organic calendula oil, Organic sunflower oil, almond oil, grapeseed oil, Organic Lavender oil, geranium oil, patchouli oil, sweet orange oil, Vitamin E, mica.


FAQS
1. Is this body oil suitable for all skin types?
Absolutely! Our body oil is formulated to be suitable for all skin types. Whether you have dry, oily, sensitive, or combination skin, you can enjoy the benefits of our body oil. The blend of ingredients is designed to nourish and hydrate the skin without clogging pores or causing any adverse reactions.

2. How often should I use the body oil?
The frequency of use can vary depending on individual preferences and needs. However, for optimal results, we recommend using our body oil daily. Applying it after a shower or bath when the skin is still slightly damp can help lock in moisture and enhance absorption. Remember, a little goes a long way, so start with a small amount and adjust as needed to suit your skin's hydration requirements.
3. Can this be used on the face and scalp?
Yes you can, however we do have an amazing anti-wrinkle Super Berry Face Oil
. Both oils can be massaged into the scalp to help promote hair growth.
4. What is the shelf-life of this product?

12 months.
Also check out our Wild Jasmine Body Souffle, a natural skin tightening cream for belly and thighs post birth.
Share