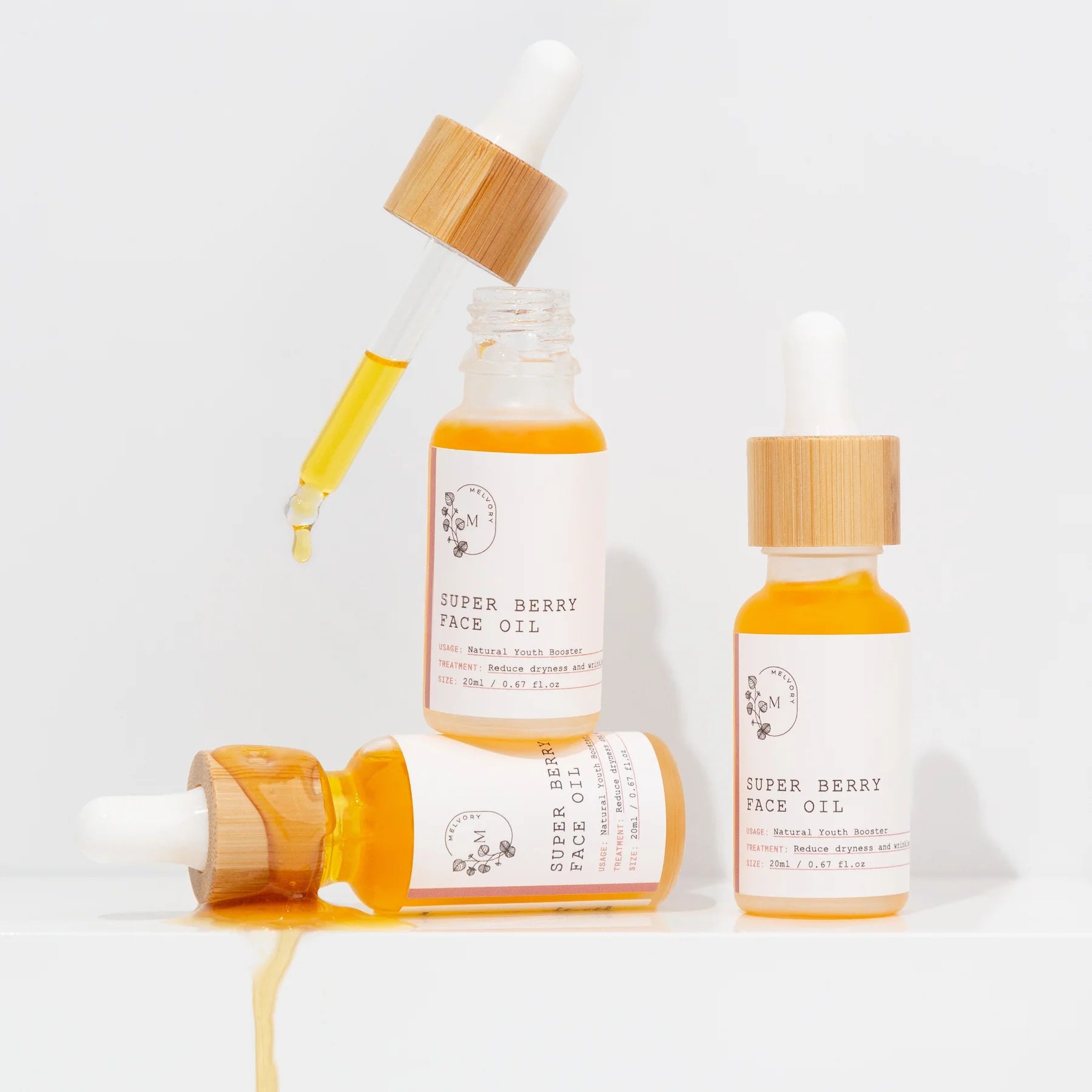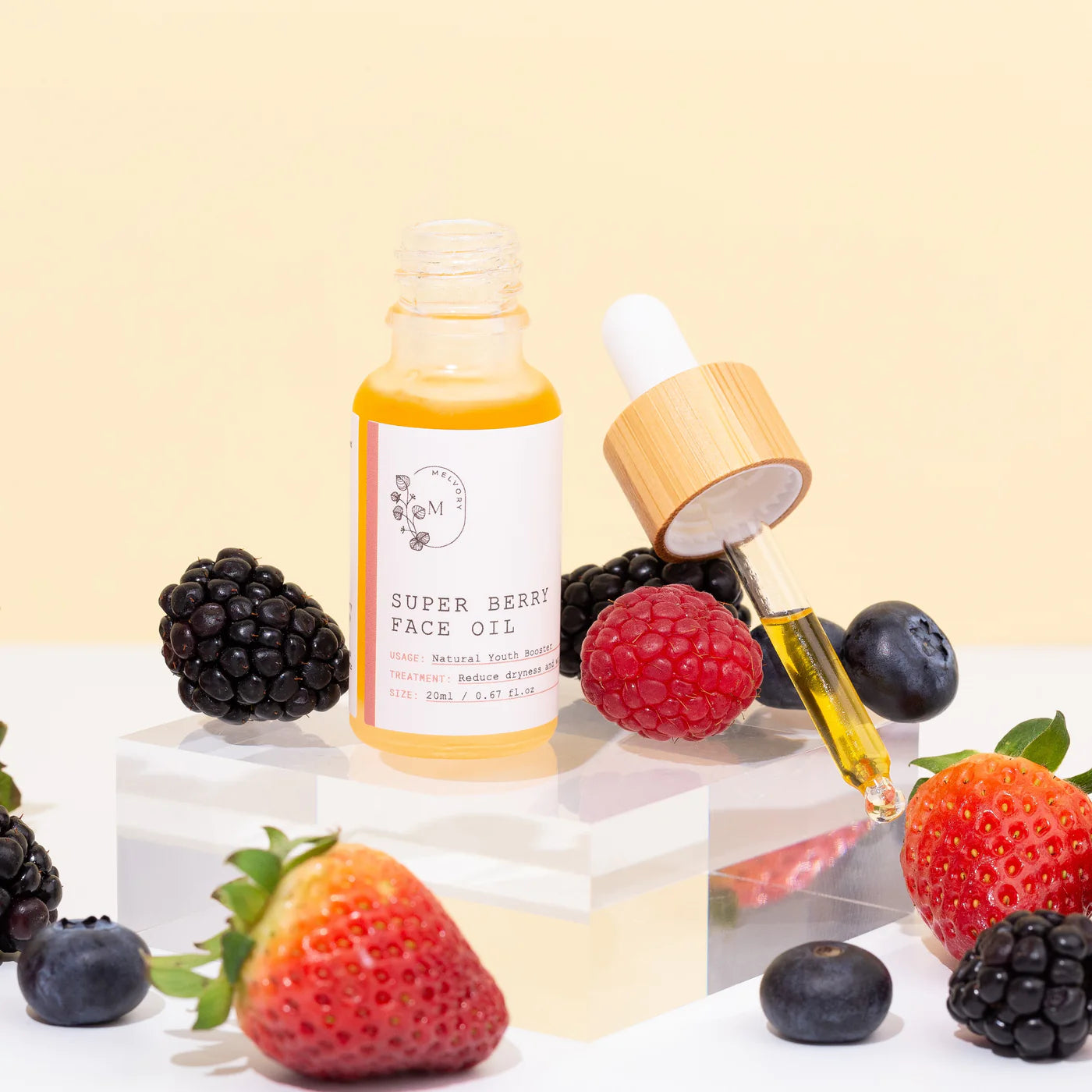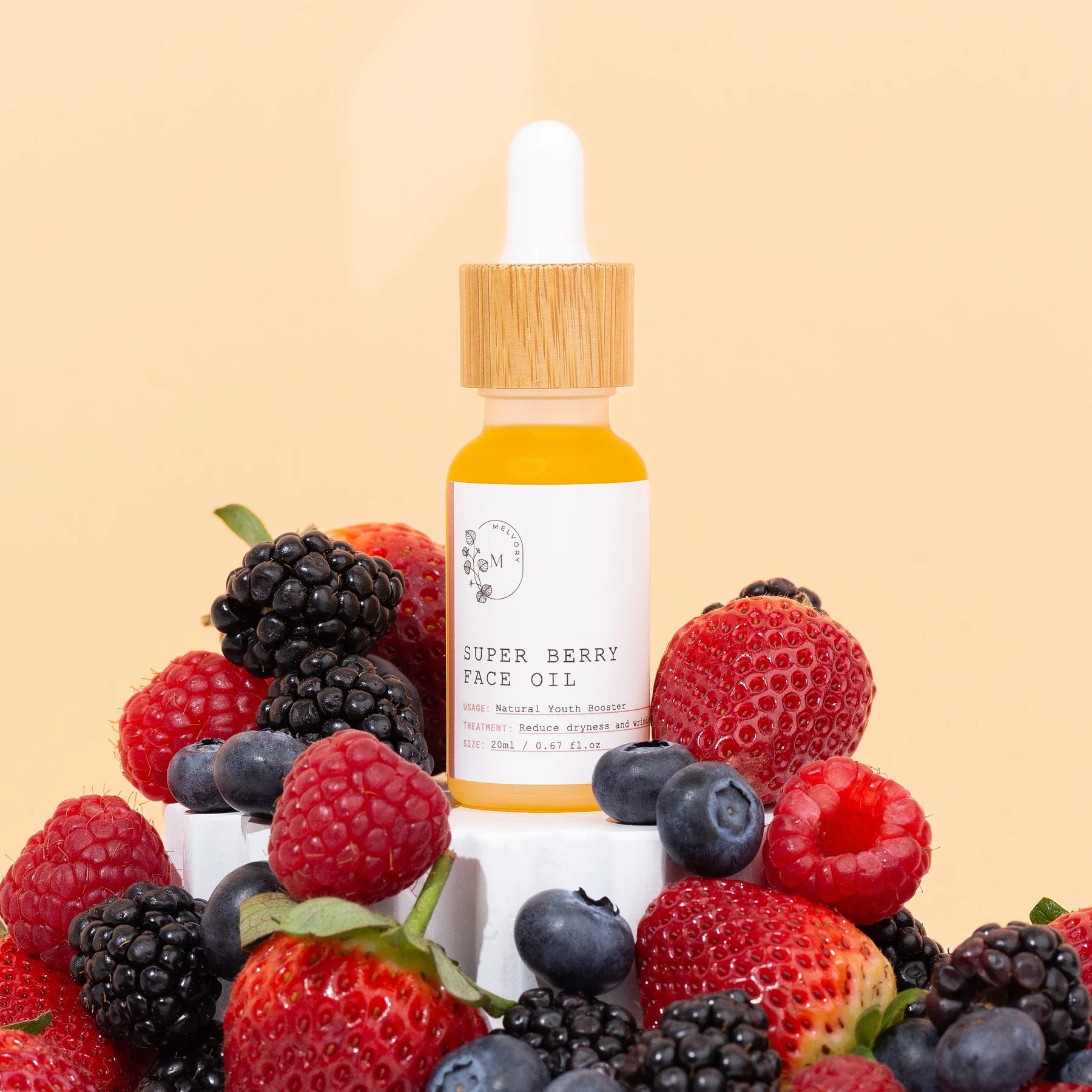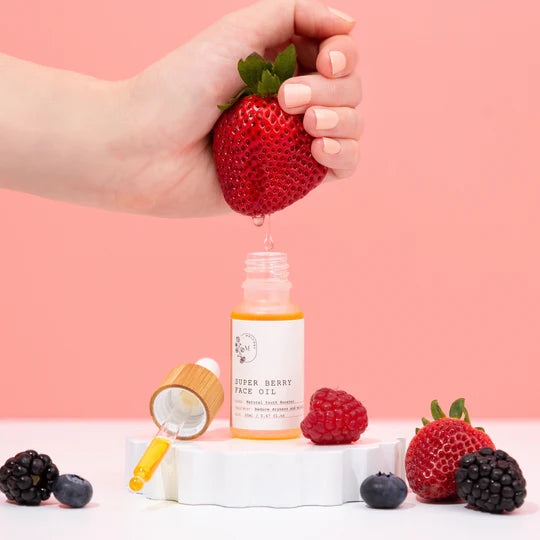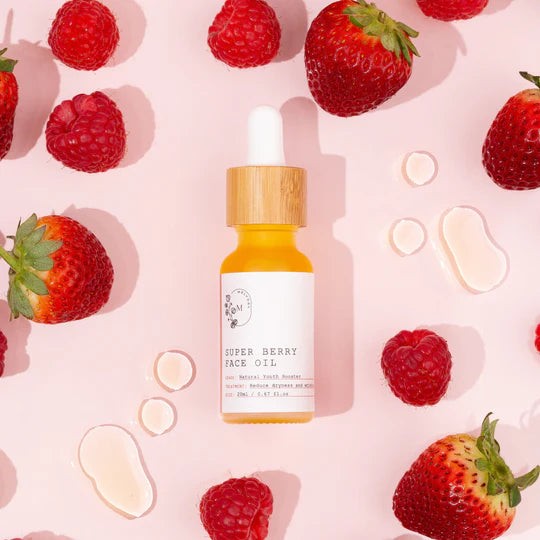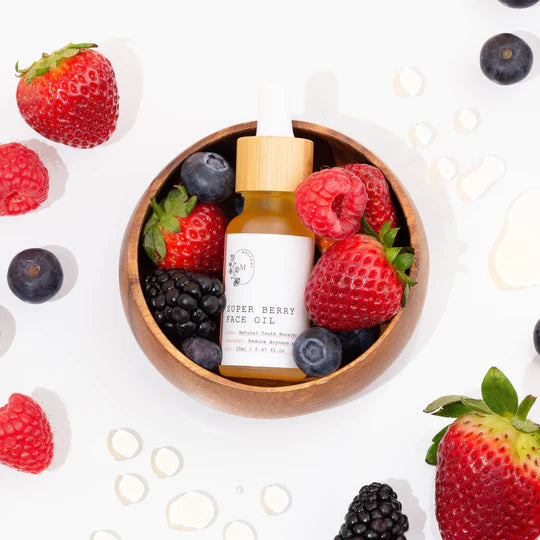 Super Berry Face Oil **Backorder**
MULTI-VITAMIN SKIN FOOD (20ML)
24/7 Age Confidence
 A 100% natural, youth boosting treatment oil that works like a multi-vitamin pill for the skin. Formulated with 20 concentrated cold pressed organic oils that combines the power of acai berry, strawberry, blackberry, lotus flower, pomegranate and sea buckthorn berry oil to deeply nourish your skin and stimulate collagen production. 
An organic facial serum powered by a blend of hardworking antioxidants and nutrients. Contains vitamins A, B, C, D, E and K.
Noticeably firms, supports elasticity, softens lines, hydrates, smooths and protects against the signs of ageing
Antioxidant-rich sea buckthorn berry, rosehip and chia seed oil work to replenish moisture, boost elasticity and promote youthfulness
 Suitable for all skin types
Mature, dry skin: This oil is easily absorbed, allowing its antioxidants to travel deep into the layers of the skin where the powerful ingredients work to fight free radicals (cause of fine lines and wrinkles). 
Acne-prone and oily skin: The acne-safe oils within this treatment oil act as an astringent to rid your face of excess grease, but will also help regulate your skin's sebum production (i.e. your skin's natural oil) to make you less oily overall.

Pomegranate oil is naturally antibacterial and anti-inflammatory (so it'll help calm inflamed, broken-out skin), but it's also incredibly lightweight, so it won't feel like a greasy mask.
The restorative Rosehip oil deeply hydrates skin (without suffocating your pores) with fatty acids that also correct acne marks and reduce redness.
Sensitive skin: No added preservatives, synthetic chemicals or fragrances makes this oil perfect for sensitive skin
Helps with:
Softening the appearance of fine lines & wrinkles
Intense hydration and plumping of skin
Promotes skin elasticity
Reduce blemishes and skin imperfections due to acne


How to use
Apply a few drops onto forehead, cheeks, neck and décolletage, twice daily -morning and night. Massage gently until absorbed. Many skin conditions will see an improvement within 4-6 weeks.
We recommend using this treatment oil as the last step in your skincare routine, after your moisturiser. The nutrients in the oil can penetrate through the moisturiser and also seal in all the hydrating ingredients, leaving you with a radiant complexion.
Pro tip: Use this oil under your makeup, or mix in with your foundation for some added glow!
Texture & Colour: Red/orange liquid oil
Smells like: Lotus flower and mandarin
HERO INGREDIENTS
Acai Berry Oil 
Acai Oil is enormously rich in anti-oxidants, vitamins B, C and E and is known to help improve skin elasticity.
Strawberry Seed Oil
A good source of vitamins A, B and C, strawberry seed oil stimulates collagen production, erase wrinkles, helps to minimise pores and prevent breakouts.


Blueberry Seed Oil
Jam packed with natural anti-oxidants, use this in your skincare regime daily to naturally slow down signs of aging.
Raspberry Seed Oil
Raspberry Seed Oil offers anti-ageing benefits of improving suppleness and flexibility, while softening and smoothing the looks of wrinkles, fine lines and sagging skin. 
Blackberry Seed Oil
Contains a significant amount of Vitamin C to help combat wrinkles, blotches, large pores, acne and other skin blemishes.
Rosehip Oil
Rosehip oil penetrates your skin and is easily absorbed, delivering soothing, protective elements such as fatty acids and vitamins.
Jojoba Oil
A light and golden coloured oil that contains vitamin A, D and E to keep skin beautiful.


 Natural Vitamin E Oil
Vitamin E is an anti-oxidant, and a much needed nutrient to the skin as it is helpful for many skin conditions, keeping skin healthy, soft and supple.
Full Ingredient List: Organic rosehip oil, Organic camellia oil, Organic marula oil, Organic sea buckthorn berry oil, Organic acai berry oil, Organic raspberry seed oil, Organic blueberry oil, Organic strawberry oil, Organic blackberry oil, Organic pomegranate oil, Organic chia seed oil, Organic jojoba oil, grapeseed oil, shea oil, Vitamin C, Vitamin E, rosemary extract, mandarin oil, pink lotus oil, neroli oil.
FAQS
1. What is a Facial Oil and do I need one?
Organic face oils are effective because of their potency. The powerful active ingredients are present at a much higher concentration compared with creams, as they're not diluted. And they're not just reserved for dry skin. A facial oil with natural ingredients can be beneficial for all skin types, even those with oily or acne-prone skin.

2. What is the shelf-life of this product?
Approx 1.5 years.
3. How long can a bottle last?
If you apply diligently twice a day, a bottle should last you about 2-3 months.
Share