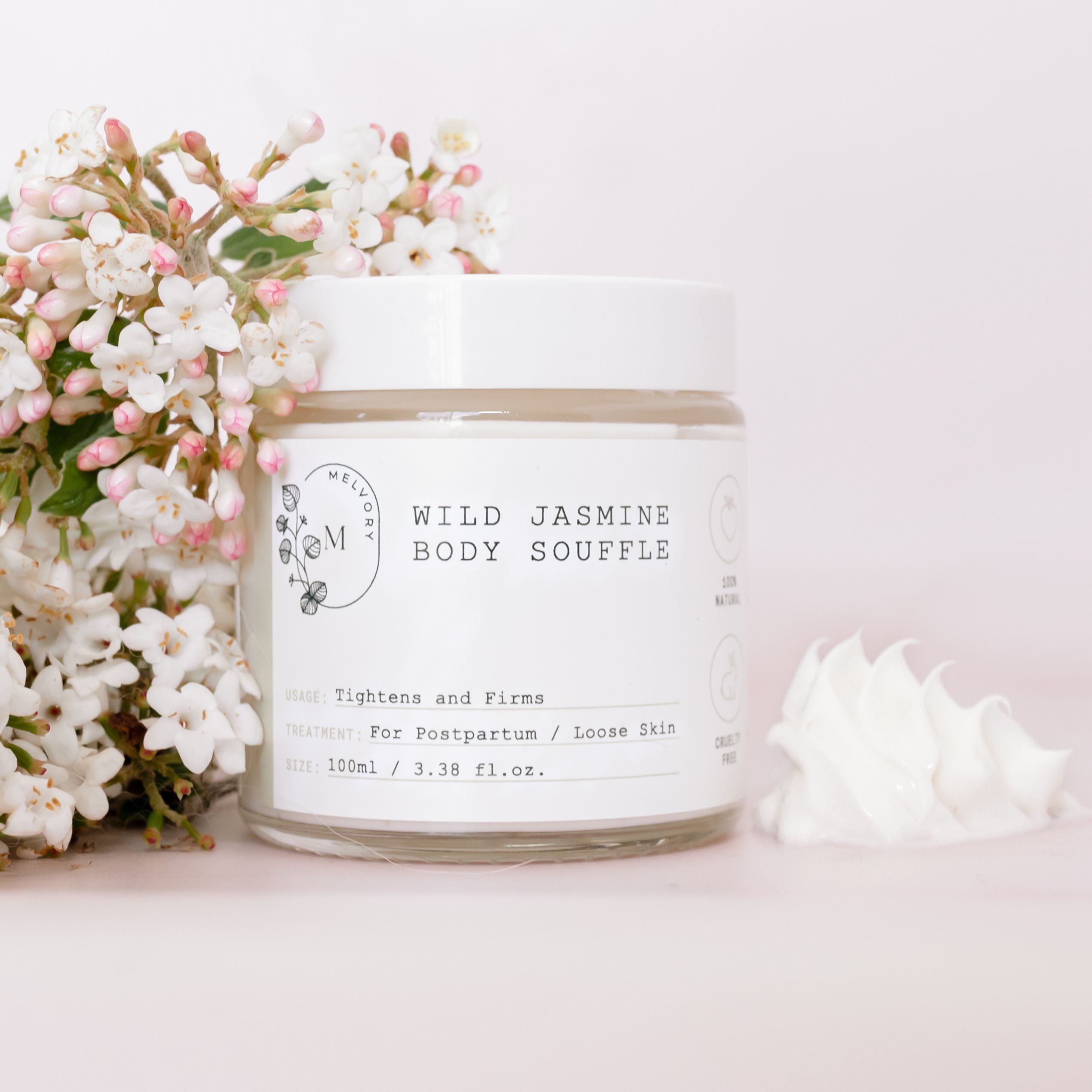 Wild Jasmine Body Souffle (100ml)
Natural Skin Tightening Cream 100mL
Helps to tighten loose skin on belly and thighs, a very popular cream among new mums after having baby. Made from Jasmine, Avocado and Rose Oil, this rich emulsion that glides beautifully over your skin, naturally tightens and quenches your parched skin, leaving it feeling smooth and firm.
Smells of lovely spring flowers, this is true luxury in a jar, a must have for a well deserved pamper session.
How to use:
Apply onto thighs, belly and breasts twice a day.
Texture: Thick Cream
Scent: Roses and Jasmines
HERO INGREDIENTS
Jasmine Oil
The healing and revitalizing properties found in this oil make jasmine a great choice for tightening your skin. It accelerates the generation of new cells and supports better blood circulation.
Avocado Oil
Avocado Oil is one of the most penetrative of all natural plant oils. Using it in skincare products results in extremely soft and hydrated skin due to its humectant properties that prevent skin from drying. 


Geranium Flower Oil
Used by the Egyptians for promoting beautiful and radiant skin, geranium oil is now widely used to help tighten skin and to slow down the effects of aging. This sweet-smelling oil can also uplift your mood, lessen fatigue and promote emotional wellness.


 Rose Flower Oil
Rose flower oil is very powerful as a moisturiser due to it's the molecular structure that is very compatible to the skins tissue, allowing it to be absorbed completely into the skin for a healthy glow.
Shea Butter
The high concentration of natural vitamins and fatty acids in Shea Butter makes it incredibly nourishing and moisturising for our skin. It is often used to remedy dry skin and to help protect the skin's natural oils.
 
Roman Chamomile Flower Oil
Roman Chamomile Flower Oil is known to promote smooth, healthy skin and has a very calming scent.
Full ingredient list:
Organic aloe vera, Organic avocado oil, Organic shea butter, Organic glycerin, Organic rosehip oil, Organic beeswax, Organic macadamia oil, Organic apricot oil, Organic jojoba oil, cetearyl olivate, sorbitan olivate, glyceryl stearate citrate, Cassia Angustifolia seed polysaccharide, Radish root ferment filtrate, Organic coconut oil, Crambe abssinica seed oil, Sambuscus nigra fruit extract, Organic gotu kola extract, Kakadu plum extract, Quandong extract Organic calendula extract, Jasmine oil, Cucumber oil, Lavender oil, Natural Vitamin E oil, Bergamot oil, Ylang ylang oil, Geranium oil, Lemon oil, Coriander oil, Tangerine oil, Acacia senegal gum, Xanthan gum, Roman chamomile oil, Organic palmarosa oil, Rose oil, Organic rosemary extract, sorbic acid, citric acid
Share