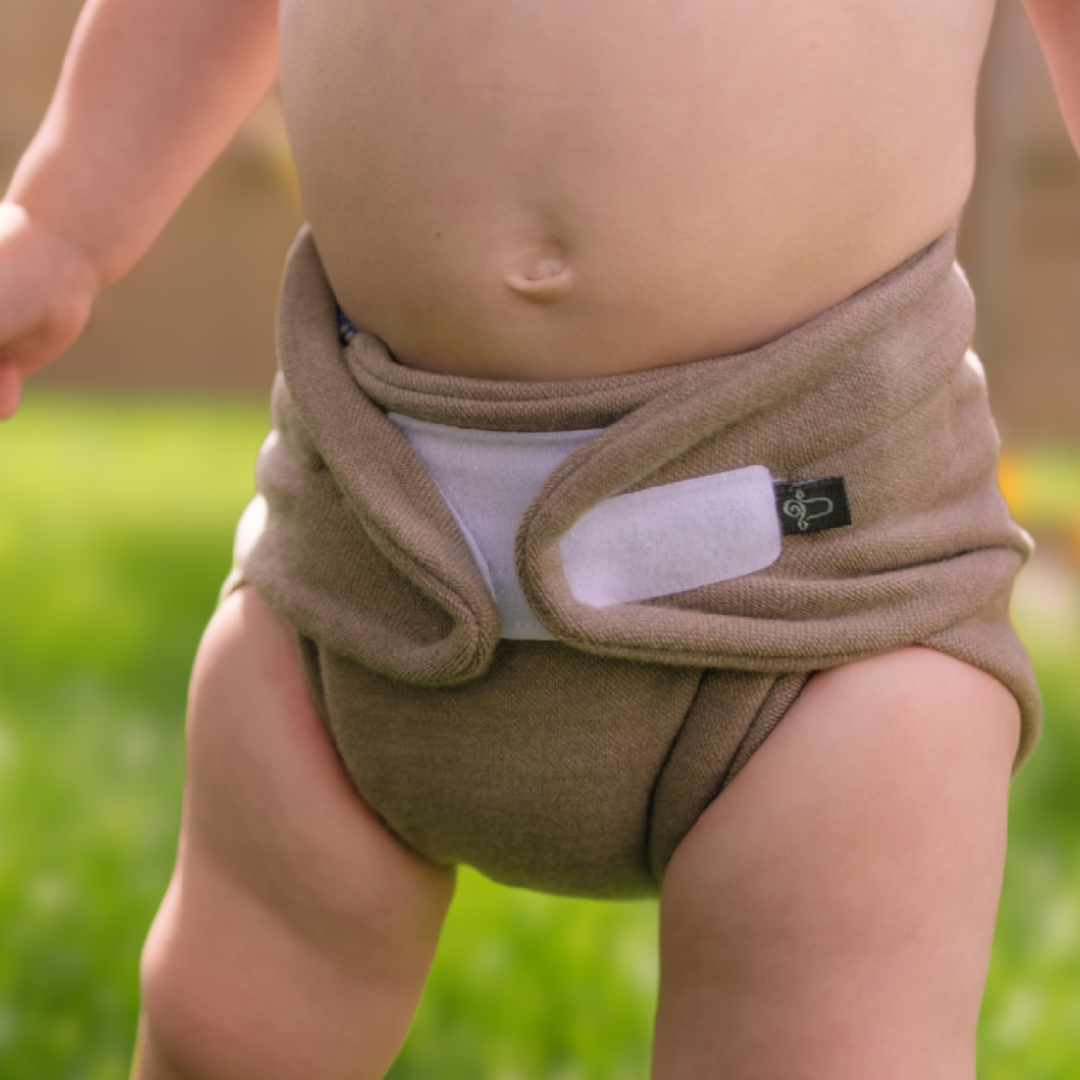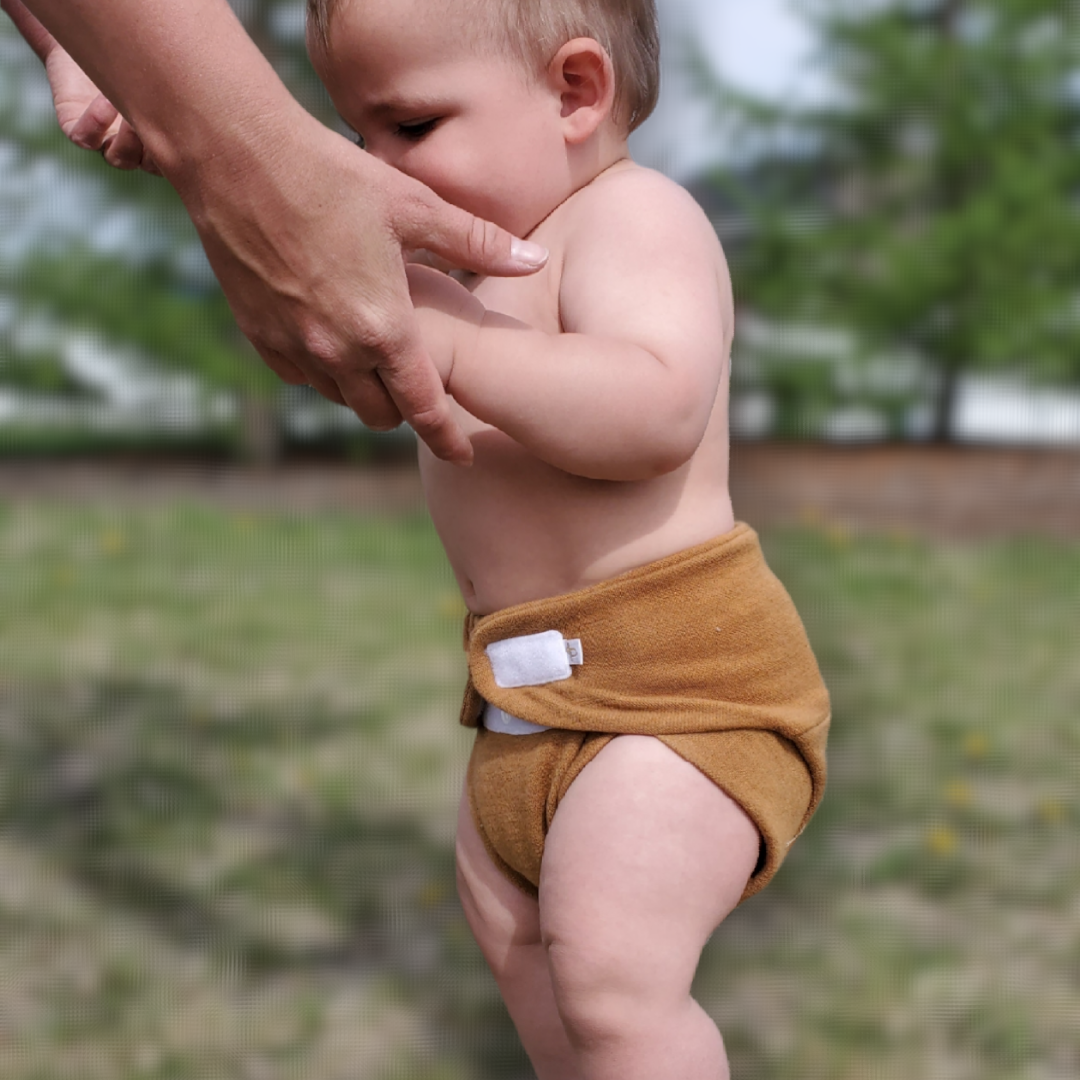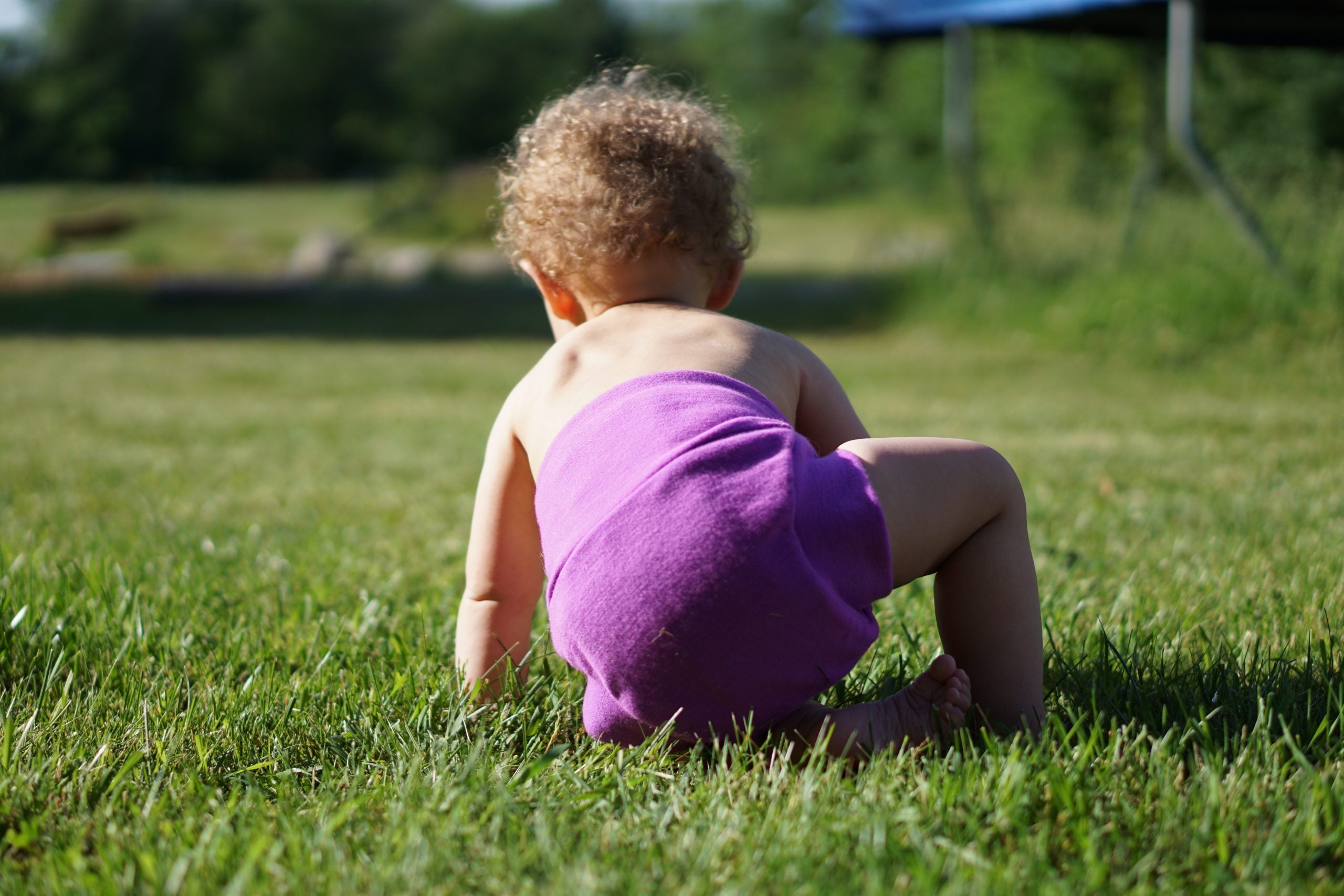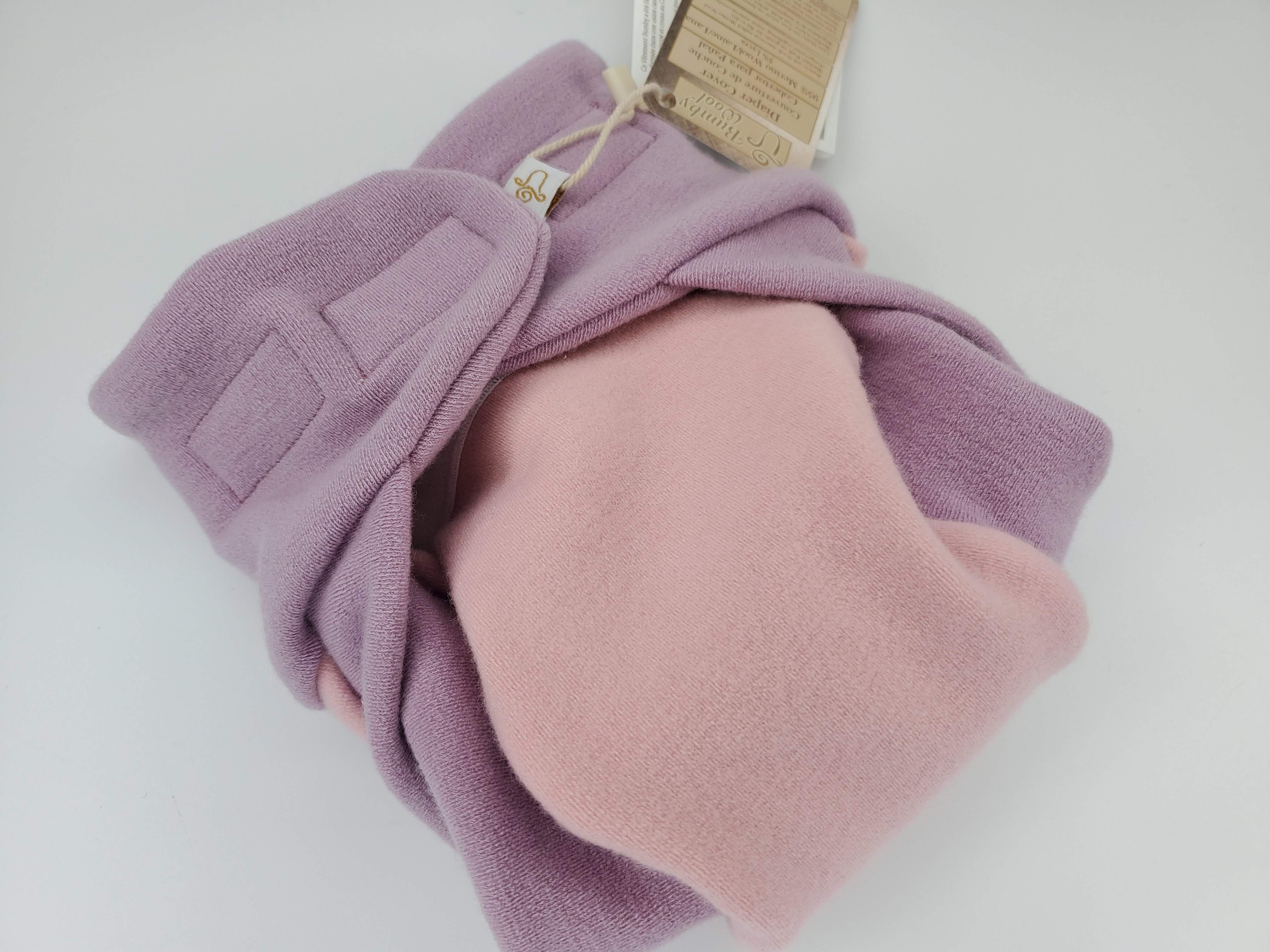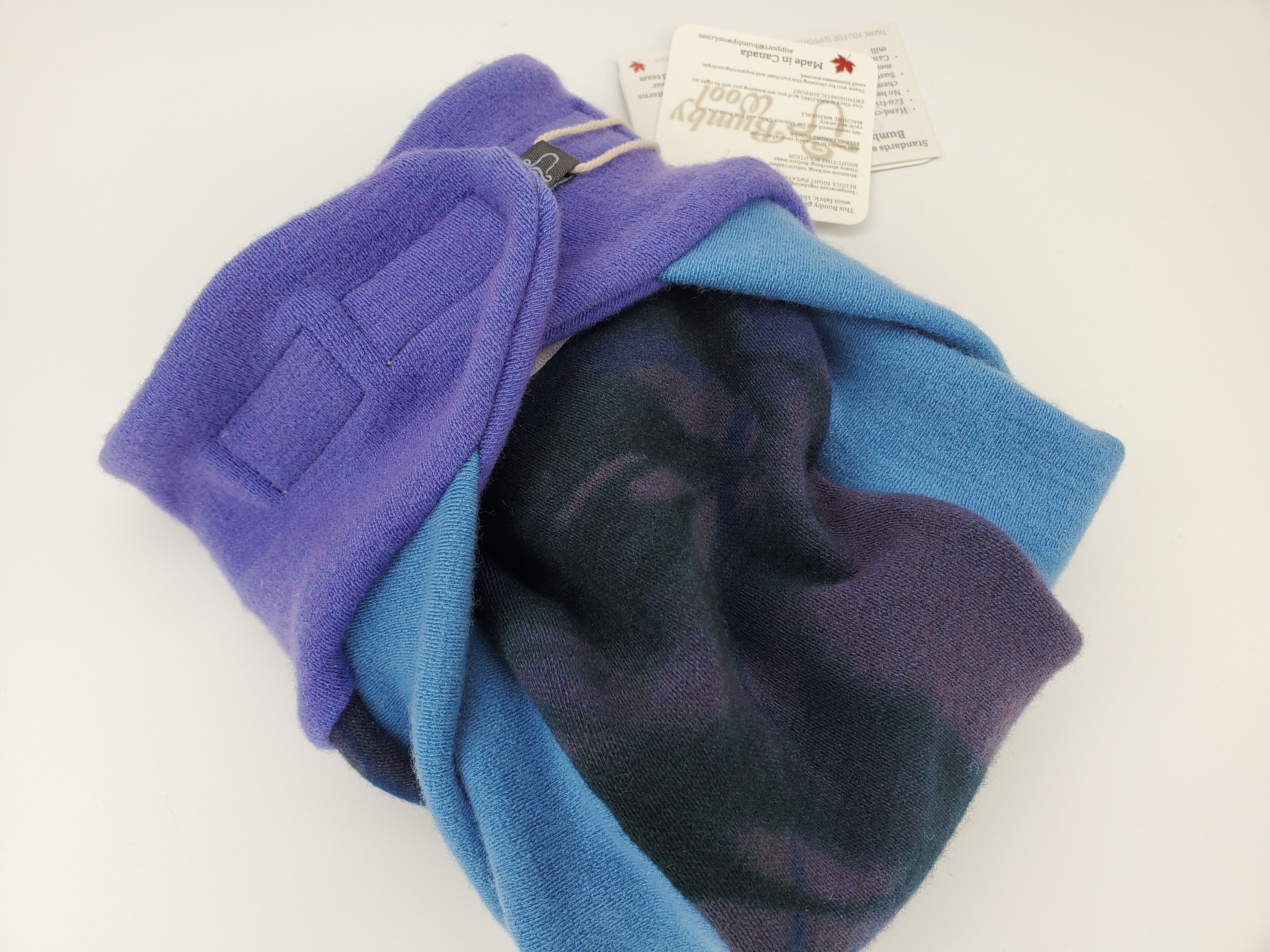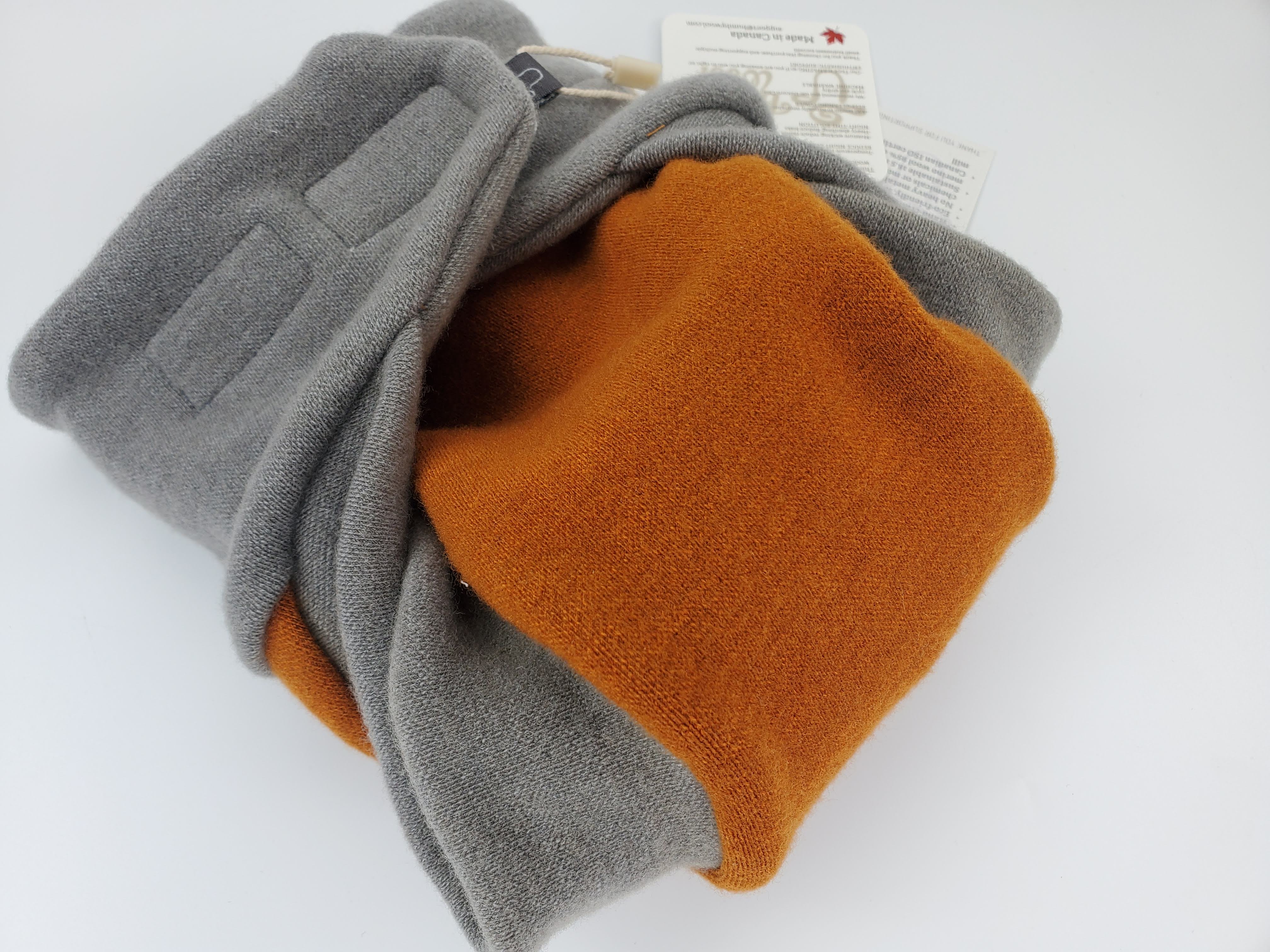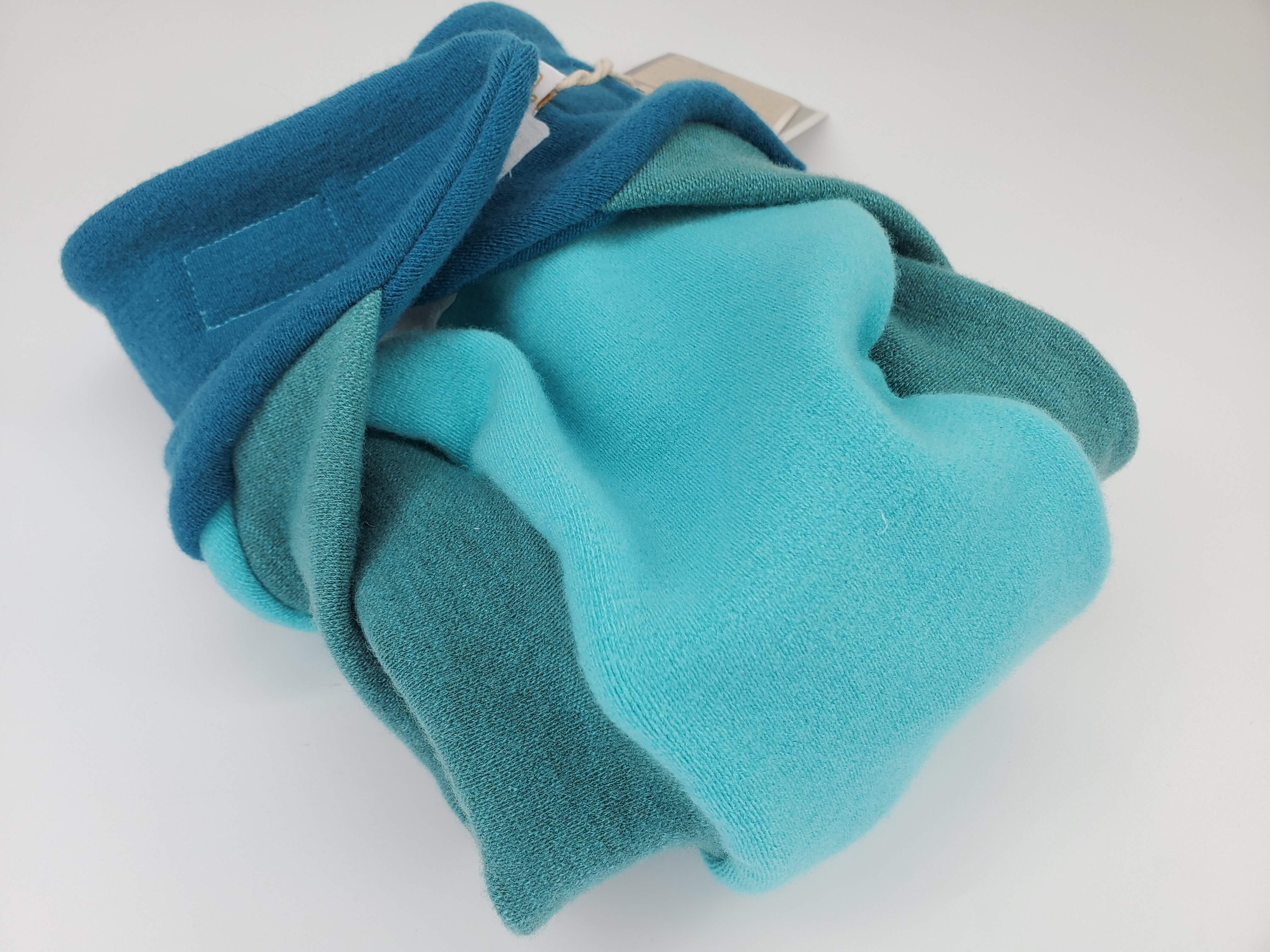 Wool Diaper Cover (Abrazo)
Revolutionary Hook & Loop Closure Cover
There is nothing else like it out there, and we are excited!
Designed right here in-house, with care and attention to every detail.  You got Pains? we got Gain!
Full Night-Time Solution which is also trim enough to use during the day, plus ADJUSTABLE so it changes with your diapering routine as well as the growth and changes in your baby.
I have some must have's and must have not's
Have's
Adjustable rise to last a long time to justify the price (fold over front to reduce rise)
4 size system

Small fits about Newborn to Small
Medium fits about Small to Medium
Large fits about medium to Large
XL fits about Large to XL

Washing tabs (which are sewn in and right there for easy access)
Comfortable seams (turned seams so no serging at legs)
Ability to adjust (cross over tabs to change waist sizing
Be unique, there is nothing on the market like it.  We designed it right here after years of working wool and my knowledge of cloth diapering my own kids.
Easily repaired – all the Hook & Loop goes on last, so if there are any issues it can be replaced without putting holes and mucking about.
Stuffable inner layer to add more protection
Open design for better washing and drying time
Cool thought-out name, Abrazo means embrace in Spanish.  My husband is from Costa Rica and I really wanted to embrace the heritage and language of my family into the name.  Its also easy to say and easy to spell.
Have not's
No elastics to replace (we use a wool cuff with hidden seams)
No falling down wings (the cuffs go all the way to the top of the front)
No Snaps ( I almost failed at this one, but found a way. No snaps to fall out)
No cheap Velcro that sticks full of junk and wrecks wool (our hook & loop is Canadian sourced and doesn't stick to the wool and the washing tabs reduce junk getting in)
No Short Cuts – I personally CD'ed my kids in 2007 through 2011.  I know all the problems and thought about this for years.
Share
Great first wool cover
Bumby Abrazo Wool Cover - great for newbies to night diapering!
Disclaimer: Received a good discount on this as part of a draw-to-purchase for an honest review.
tl;dr: Easy to use and care for, great as a gift or for someone new to wool
As a first-time mum and also someone who's new to cloth, I was pretty nervous about trying out night diapering. For the longest time, we used disposables at night. It wasn't until we had a few disastrous leaks (read: having to change a screaming bub's clothes, mattress cover and various swaddles in double-time in the dead of night to avoid waking neighbours) that we decided to try night diapering with cloth.
The things I look out for in a night diaper solution are:
- 🌬 breathability (because it's going to be on bub all night)
- ☔ leakproof-ness (for obvious reasons)
- 👌 ease of putting on (because who wants to fiddle around with diapers at the end of a long day of spit-ups, chasing after babies, etc etc)
- 💖 chio-ness (as an added bonus so you wake up happy to see how great your baby looks)
Bumby's Abrazo Wool Cover is all of the above.
I was also worried about caring for wool, as I've had wool sweaters and socks before that got mangled when I machine washed them and hung them to dry above my heater in my cold UK college accommodation. No worries at all on this front:
- 💪 Bumby's wool is sturdy and can withstand machine washing
- 🤩 It feels silky and lovely on the skin even when only washed weekly
- 🐑 Lanolisation was fuss-free with Bumby's detailed video tutorial and their emulsified lanolin solution
- 👏 The velcro is super high quality and doesn't damage the wool or other items in the wash
The only downside of the wool cover I can think of is that the leg cuffs are a bit awkward to fit on my extremely chubby baby with a big belly. She looks a little better in bloomers 😝 Still, doesn't affect function so it's all good.